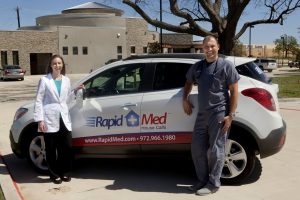 The phrase: "What's old is new again," is a good fit for Rapid Med Urgent Care's recently-announced service option for mobile visits, Rapid Med House Calls, to its list of services available to patients.
Many times something that has faded away, comes back into fashion, because, well, it was a pretty good idea after all. The comfort and convenience of the house call, or mobile healthcare visit, is an example of just that, and Rapid Med Urgent Care of Double Oak and The Colony agree.
Now Rapid Med of Double Oak and The Colony patients have the choice of not only walking in without an appointment– or scheduling via phone or online– they can also request an in-home visit by a nurse practitioner or physician assistant via phone, online, or Rapid Med App.
It's no longer necessary to leave home when you're sick, or bring the entire family—just to get a child's ear checked. Sit tight and contact Rapid Med House Calls.
Today's advancements in medical and communication technology have brought the house call to a new level of service. Rapid Med is incorporating mobile healthcare visits seamlessly into its long-established practice.
Known to their patients, as well as the communities it serves, the Rapid Med logo and members of its healthcare team frequently attend many local sporting and community events. Visiting patients in the comfort of their own homes, or perhaps at their workplace, is yet another way to serve the community.
As a new addition to Rapid Med, Michelle Triche, FNP-C, is a board-certified Family Nurse Practitioner. Previously, she was a registered nurse at West Jefferson Medical Center, a hospital in Marrero, La., for more than six-years.  She worked as a staff nurse, trained new-hire nurses, acted as a charge nurse and then clinician over a 41-bed Telemetry unit.
"I am so happy to be a part of the Rapid Med family, and to be able to bring that caring family-feeling into peoples' homes," said Triche.
"The mobile service is ideal for the community, and I'm so excited to get this service up and running. I'm looking forward to expanding the trusting relationships that Rapid Med has already built with its patients. Who wouldn't want a provider to come to them when they already feel miserable?"
How It Works
Patients can phone, go online, or use the Rapid Med App to request an in-home visit. One of Rapid Med's nurse practitioners will call the patient back shortly after receiving the request in order to assess their condition and determine if an in-home visit is appropriate.
If so, the patient will be provided the name of the healthcare professional who will be visiting and an approximate arrival time. Rapid Med will also offer to text a photo of that person so the patient will recognize him or her at the door.
The patient, whether new to Rapid Med or a patient of record, will be asked for a credit card number to cover the mobile visit convenience fee, a flat rate of $115, plus a small trip charge of $15.
The range of conditions that can be treated during a house call include, but are not limited to: flu and flu-like symptoms; strep and sore throat; ear infections and ear pain; sinus infections and congestion; rashes, poison ivy, allergies, pink eye, sprains and minor stings and bites, bronchitis and coughs, exam for certain prescription renewals, minor skin infections, shingles and more.
Drs. John and Rebecca Gomez, together with their hand-picked team of physicians and healthcare professionals, are excited to bring their cutting-edge methodology in healthcare to the comfort and convenience of their patients' homes. They strive to provide the best experience and treat each patient as family.
Visit Rapid Med Urgent Care at www.rapidmed.com or call 972-966-1980.