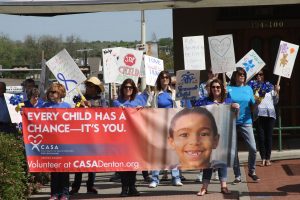 Members of CASA of Denton County marched from the Denton Civic Center to the Denton Square on Friday and passed out blue pinwheels to help spread awareness of the effects of child abuse.
CASA, or Court Appointed Special Advocates, are community volunteers who receive specialized training to be a voice for children in the courtroom.
Last year, CASA of Denton County served 507 children, out of 584 children in foster care from Denton County. A total of 77 children from Denton County still need a community advocate to speak for their best interests, and for the entire state of Texas, only one in two children in foster care have an advocate to speak for them.
In addition to becoming advocates, community members can also support the cause by reporting any suspected abuse or neglect to the statewide hotline (1-800-252-5400 or www.txabusehotline.org).
CASA's website includes a number of ways to get involved at any level of commitment during the month of April, which is National Child Abuse Prevention Month, and beyond at http://casadenton.org/news-events/capm/.