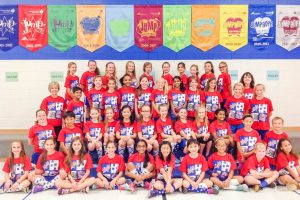 At Wellington Elementary in Flower Mound, jumping rope is a big deal. Each year the school participates in the American Heart Association's Jump Rope for Heart event.
Last year, Wellington was recognized as one of the Top Ten Schools in Texas to participate in the event. The campus was ranked eighth for raising $32,898 for the American Heart Association. This year's event just wrapped up, and once again, Wellington students "Did Their Part To Save A Heart" by raising $28,312.
Wellington's Jump Rope team, led by Coach Susan Tyner and Coach Teresa Kenney, is made up of 4th and 5th-grade students, who tryout for a spot on the team in the fall. The group's dedication and hard work allow them to achieve every year. With weekly practices and community performances, their reputation is earning some recognition.
"Our jump rope team members are amazing role models at the school," Wellington P.E. teacher and Jump Rope Team Coach Susan Tyner said. "These talented students motivate, encourage, teach and inspire others to learn new jump rope tricks."
For the past two years, the team has traveled to Bluebonnet Elementary to perform for the student body during their Jump Rope for Heart Kickoff, as well as a half-time performance during Flower Mound High School's varsity boys' basketball game.
Everywhere you look you will find students turning ropes at Wellington.
"When the student body sees the team perform, jumping rope becomes contagious," Coach Tyner said. "It is so rewarding to see students having so much fun they don't even realize how hard they're working. We believe jumping rope is excellent cardiovascular endurance and love to see our kids improving their overall fitness."
Wellington jump rope team members agree.
"I love hanging out with my friends after school and exercising by jumping rope," student Tej Sathe said.
Fellow student Logan Halleman added: "I also enjoy performing around the community."
It is no doubt the team's success stems from the school's goal to promote health and wellness.
"At Wellington, P.E. doesn't just stand for physical education," Coach Tyner writes. "It stands for powerful education. We grow brain cells. We stimulate student's brains so they can return to their classrooms ready to learn. We help students develop cardiovascular endurance, muscular strength and flexibility. By growing healthy bodies, we cultivate healthy minds."
Watch this year's jump rope team in action at the FMHS basketball game here.