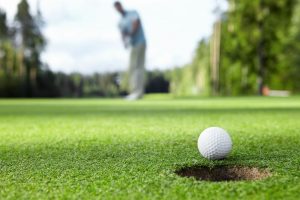 The Lewisville ISD Education Foundation (LEF) will host its 8th Annual Golf Classic on Monday, April 4, at Stonebriar Country Club.
Founded in 1990, LEF provides grants and scholarships for students and classrooms in LISD to fund innovation and student success.
"The golf tournament is one of the primary fundraising vehicles for the foundation," LEF Executive Director Connie Pelphrey said. "It's exciting that we can enjoy this great event with so many members of the community, on such a lovely course, all while fulfilling a need."
LEF awarded more than $250,000 in the last year to students and teachers, and has awarded more than $3 million since its inception, to assist in the pursuit of higher education and greater classroom engagement.
"Our mission is to enrich the quality of public education within LISD," Pelphrey explained. "Of course, LISD serves students at a very high level. We contribute to that by offering funds for innovative programs and new ideas."
Students and educators on every campus are impacted by the generosity of LEF and its supporters. Join LEF in changing children's lives and enjoy a great afternoon of golf, food, fun and prizes on Monday, April 4, at Stonebriar Country Club.
"We've had some scares over the years, but so far, the weather has never disappointed," Pelphrey said. "And of course the staff at Stonebriar does everything to make the event as perfect as the facility. The only other component is a field of enthusiastic and supportive golfers who want to give back to the students and teachers of LISD. We're excited to partner with the golfers in our community each year. It truly puts the FUN in FUNdraising."
Registration is $200 per person and includes lunch from the In-N-Out trailer before play, dinner at the club, a cocktail reception, golf shirt, custom-fit golf glove and other goodie bag items. Foursomes can register for $750; hole sponsorships, which include a foursome as well as signage at the hole, are available for $1,000.
For more information about sponsorship or participation in this great event, which supports students and teachers in LISD, contact LEF Director of Development Donna Chandler at 469-948-2013 or [email protected].
To read more about LEF, visit lisdef.com. Registration is open at lisdef.com/golf.