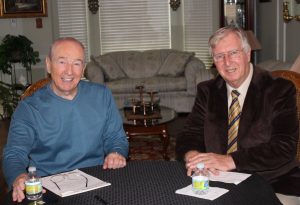 The Highland Village City Council has an open seat this year and three residents are campaigning for it. The candidates for the Place 4 seat are Barbara Fleming, Dan Jaworski and Richard Rega.
Ms. Fleming and Mr. Jaworski came over for video interviews recently and they've been posted on The Cross Timbers Gazette website, the Highland Village Cares Facebook Page and other local social media sites.
Recently, I also had the pleasure of doing a video interview with Richard Rega and it accompanies this article. The following information was provided by Mr. Rega.
"Who am I? I'm just a regular person. I am from back east and I hold a B.S. degree from Long Island University (Post campus). I am a US Army veteran, Finance Corp in the mid sixties (Asia).
"During my working career I was employed by the General Electric Company, holding various positions in management for twenty-five of my thirty-one years. I have lots of experience managing assets and people. We have been Highland Village residents for 35 years, raised our family here and have seen our little city grow. We could not ask for a better place to reside.
"To date, my service to Highland Village has been as follows: 2003 -2011 a member of The Planning &Zoning Commission, and it's chairperson for three years. In 2008 I served as Chairperson for the Highland Village Library Committee. 2016- I'm a member of the Highland Village Board of Ethics. I care about this city and its people and would be proud to serve on the city council."
Mr. Rega does not have a campaign web page, but, as he says in the video, he'll be campaigning throughout Highland Village.

Bob Weir is a long-time Flower Mound resident and former local newspaper editor.