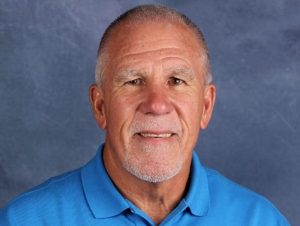 Longtime Liberty Christian girls basketball coach Ken Burroughs has netted another illustrious honor, mere weeks after he led the Lady Warriors to a second straight state championship.
Burroughs was tabbed by the Texas Association of Basketball Coaches as its TAPPS 5A girls coach of the year earlier this week. The TABC awarded the honor to 21 girls and boys coaches from different classifications across the state — including those from TAPPS and the University Interscholastic League.
Of those 21 coaches, Burroughs was one of nine from TAPPS.
"Coach Burroughs has been with us for 10 years, and he's the type of coach who doesn't just teach basketball, he also teaches these young girls the game of life," Liberty Christian athletic director Zack Vest said. "His success has transitioned through his tenure. He hasn't had just one or two good teams. He's successful every year."
Burroughs' teams have won five state titles over the last 10 years, including a 48-43 win over Plano Prestonwood on March 5 in the TAPPS 5A final at Mansfield Timberview. The win marked the program's first back-to-back state titles since 2007 and 2008. It also won a crown in 2011.
Liberty Christian has played in eight state tournaments over the last 10 seasons.
During that time, Burroughs has coached some of the best players the state has to offer, including Whitney Hand and Nicole Kornet — both went on to play at Oklahoma.
This season, the Lady Warriors had four Division I players in Sydney Goodson (Arizona State), Kendall Ellig (Rice), and twin sisters Rebekah and Hannah Hand (Marist).