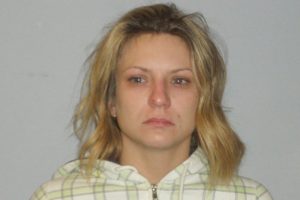 by Adam Schrader
Flower Mound police responded to a 911 call from Blair Buckley, 26, who told police she had shot her boyfriend, Forrest Mann, 34, in the 3900 block of Braxton Lane just after midnight Thursday morning.
Officers arrested her at the scene and transported her to Flower Mound Jail.
Officers found Mann at the scene with a single gunshot wound to the chest. He was treated and transported to Medical Center of Lewisville where he was listed in fair condition, according to a probable cause affidavit.
Police arrested Buckley and charged her with Aggravated Assault with a Deadly Weapon-Family Violence, according to the affidavit.
The couple initially attempted to drive to Flower Mound Presbyterian Hospital but returned to the residence. Officers saw the gray Nissan coupe pull in front of their home. Buckley was driving the vehicle and Mann was alert and coherent.
At the scene, Mann told police that he and Buckley had an argument that ended with her intentionally shooting him with a handgun.
While at the hospital, Mann was interviewed by police detectives.
According to the affidavit, Mann told detectives that, earlier in the night, he and Buckley went out to dinner. After returning home, they argued about other women on Facebook. Buckley got angry and a physical fight started.
Mann said Buckley came at him, scratching his chest with her nails. He said he held her down on the bed until she calmed down then went downstairs to the kitchen where he then heard a gunshot come from upstairs.
Buckley descended, pointed a pistol at him and shot him in the chest, Mann said, according to the affidavit. He got into the car and tried to escape. Buckley followed, and while Mann waited for the garage door to open, she pointed the gun at him.
Mann said he thinks Buckley said something like "I'm going to kill you" but said she reconsidered and asked him to let her drive him to the hospital, which is when she also called 9-1-1.
Buckley told police that one week ago, Mann knocked her unconscious by kicking her in the chest. She said that, prior to the shooting, the couple had a fight and Mann hit her several times and pulled on her face and nose area.
Police saw what appeared to be a recent scratch on her nose, according to the affidavit. Police said her story was similar but had timeline gaps.
Buckley said that, at some point before shooting Mann, she feared for her safety and hid in a closet where she called her mother.
Buckley also said that the fight started with an argument about Facebook. But, she said that Mann punched her before holding her down. She grabbed the gun from the bedroom and fired a warning shot while upstairs.
Mann went downstairs, and she went to shoot another warning shot and unintentionally hit him. According to the affidavit, she has never fired a gun and intended to only scare him.
The couple had been dating for more than a year and lived together much of that time, according to the affidavit. They recently moved to the Flower Mound residence after living in Irving.
Buckley said there has been physical abuse during much of that time, including several black eyes at the hands of Mann. She said she had contacted the Irving Police Department but no arrests or charges were ever filed.
Buckley said her friends and family counseled her to leave him but her economic status prevented it.
Police Captain Wess Griffin said police completed a domestic violence packet which contains state-required forms for victim assistance and rights. The packet does not contain any additional information regarding evidence of violence, Griffin said.
"All of the allegations of ongoing domestic violence are just allegations at this point in the investigation," Griffin said. "I'm sure detectives will continue to attempt to confirm the allegations as their investigation continues, but we are still at a very early stage in the investigation, so we don't have anything additional at this time."
Buckley stated in the affidavit that the victim uses illegal steroids and keeps them inside the residence. In the upstairs hallway, police saw a bullet hole and ricochet in a wall and doorframe, as well as droplets of blood on the kitchen floor. Griffin said he is not aware of any proof of steroid use being found at the scene.
Police said in the affidavit that they detected alcohol on her breath. Buckley admitted to drinking before the fight.