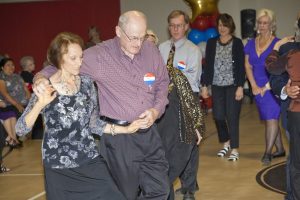 by Mark Miller, Contributing Writer
A decade ago, when Candy Wade was helping her father during and after his final stages of pancreatic cancer, she was unaware of people and places to assist her.
Having just retired from more than 30-years as an elementary school teacher in both her native Michigan and the Lewisville ISD, she was looking for a new way to put her Master's degree in Education to good use. So, she started Home Helpers, an in-home care company that now employs about 50 people, including many retired teachers.
Her business caught the attention of Doni Green from the Area Agency on Aging, who told her about the growing concern with senior citizens falling. The former Flower Mound and current Highland Village resident quickly learned why the Center for Disease Control has declared this a national epidemic:
33-percent of people age 65 and older– and 50-percent age 80+– fall each year;
75-percent of falls occur in and around the home;
87-percent of elderly fractures result from falls, including 95-percent of hip fractures;
25-percent of all hospital admissions are from falls;
40-percent of all nursing home admissions are from falling;
5-percent of all injury deaths are the result of a fall;
Someone dies from a fall-related injury every 35-minutes;
Death rate:  40-percent higher for men than women—women use step stools, men use extension ladders; and,
$30-billion are spent annually on healthcare related to falls, with an average cost of a fall injury at $19,440; not including doctor's fees or private-duty care during recovery.
Such statistics prompted Wade to take Green's suggestion to become one of the first people in North Texas to become a master-trainer in a program called A Matter of Balance.
She began teaching it to a few individuals– and even one small class, which she didn't think was special. That was until later when she saw how great one of her original students – a 92-year-young woman – looked; and, immediately realized the program needed to be bigger.
Knowing she couldn't do it alone, she used her business relationships to convince other businesses to launch the Denton County Seniors Standing Tall Coalition to promote education and activity for seniors.
"This program really works and it makes a difference in the lives of seniors," said Wade, who has volunteered for numerous other programs benefiting the ever-growing group. "The big thing is no matter what you do, make sure it's fun."
The coalition's founding members and initially-trained coaches include Barbara Parham and Doug Nickels, from the Medical Center of Lewisville rehab department; Matt Newton with Alert Response; Advance Rehab Trust Home Health's Jacque Archer and Ron Tester; and, Flower Mound Pharmacy's Mary Hunt.
The coalition conducts two annual eight-week A Matter of Balance fall prevention classes at Medical Center of Lewisville. It promotes Fall Prevention Month in September and for the past several Aprils, has hosted the 2nd Time Prom senior social.
Collectively, what the Denton County Seniors Standing Tall Coalition does reduces hospitalizations, thus reducing healthcare costs. It also makes the public aware of the growing problem, something that escaped even Wade, which she found out from her own mother's falls.
"I had been teaching this class forever and had never asked my mother– who is going to be 90– 'have you ever fallen?' until one day she called me and said: 'this time when I fell' and I said 'whoa, what do you mean this time?' " Wade said. "I asked her if she had fallen before and she said 'yeah, but I can always get up. But this time I really had trouble getting up.' I thought 'oh my God, I didn't even ask my own mom if she's fallen.
"All the seniors agree, it's a dirty little secret; that if you fall and you can get up, then you don't tell anyone," she said.
Wade learned from a Harvard University study that people can still build muscle mass at any age. They certainly need to, because beginning at age 30, people begin losing one-to-five-percent muscle-mass every year. Someone age 60, who maintains a sedentary lifestyle, will lose 50-percent of their strength by age 70.
That's what A Matter of Balance addresses. The program started in 1995 when Boston University was commissioned by the State of Maine's Health's Partnership for Healthy Aging to conduct a study about the growing concern on falls by seniors. It revealed that its home-dwelling seniors feared falling so much, it led them to fall more– primarily due to lack of activity.
Since originally getting involved, Wade has become certified in arthritis Tai-Chi through the Arthritis Foundation. The master-trainer has taught more than 50 coaches, who help educate the public on fall prevention and increase senior activity to get them to leave their homes and apartments and do something.
"It's so people can't say 'I can't do this, I'm too old,'" Wade said. "I tell them 'if you can sit in a chair, you can come to my class;' and the exercises too, you can do them."
As evidenced from the inaugural theme of "White Sport Coat and a Pink Carnation," a silver-screen salute to Hollywood, through last year's salute to veterans, the 2nd Time Prom has been a great example of getting seniors moving.
This year's event is set for April 8 from 6 to 9 p.m. at the Cross Timbers YMCA, 2021 Cross Timbers Rd. in Flower Mound. This year's theme is "Barn Dance" with Square Dance Hall-of-Fame Vernon Jones ready to call the action.
"It is a big party," Wade said. "We have people come in wheelchairs and walkers and they have as much fun sitting and watching. Some of them will get up in their wheelchairs and dance."
Tickets are $5 and include dinner, dancing and entertainment.  Proceeds go to the YMCA senior programming.
The event is not limited to seniors; about 300 people of all ages attended last year, including high school and college students having as much fun as their elders.
Tickets can be purchased in advance or at the door at the YMCA. More information is available at www.2ndtimeprom.com.
Contact Wade at 972-318-5054 for more information about the Denton County Seniors Standing Tall Coalition.