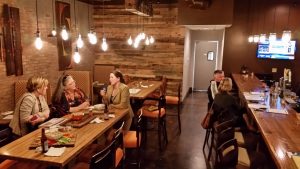 by Mark Miller, Contributing Writer
Opportunities to take advantage of growing business and increased visibility are the reasons why several tenants at Bartonville Town Center have recently relocated or expanded their spaces within the shopping center, located on FM 407 west of Lantana.
The juggling was made possible in part when the Mexican restaurant closed last spring. That allowed Dan Adams, owner of Grapes to Wine, to expand his wine bar and open a venue called Get 2gether Place for party rentals. Adams moved his popular tasting facility into the much larger space that now includes an outdoor patio and allows for more live music.
Other expansions and moves include Savory Bistro, Oasis Wellness Center, and State Farm agent Jim Bridges.
When Bridges moved from the back building out to the front next to Subway, it allowed Dr. Dan Forrer to move his Oasis Wellness Center into Bridges' former corner office area. That provided the space for Savory Bistro to take over Forrer's previous office where the owners expanded and built a spacious bar area, known as the Concoction Room.
"It's really nice to see tenants who started here and how much they've expanded," said Nan Gamel, Property Manager for Bartonville Town Center. "It shows how well they can succeed here."
The complex opened in 2003 with three buildings and approximately 80,000 square feet of total space for offices, restaurants and retail establishment. Gamel said the complex is primarily full with more than 50 tenants.
"We have several other tenants who are anxious to expand," she said. "When Phase 2 opens sometime in the future, hopefully we can accommodate our current tenants' expansion needs."
New Executive Suite tenants include Angel Koenig's Mindful Counseling, BluePeak Advisors, a Margaritaville office, and Olivier Nizeyimana's IGN International Educational Consultants for students coming to the U.S. on visas.