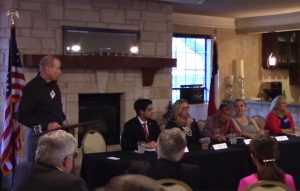 Candidates for the Flower Mound Town Council, Highland Village City Council and Lewisville ISD Board of Trustees spoke in front of a packed house on Tuesday night at a forum sponsored by the Flower Mound Area Republican Club.
The forum was moderated by Bob Weir and held at the 9 Social banquet center in Highland Village.
Flower Mound candidates include mayoral hopefuls Tom Hayden (I), Janvier Scott and Jim Berendt; Place 2 candidates Bryan Webb (I) and Sandy Fambrough; Place 4 candidates Don McDaniel and Jim Engel; and candidates for the unexpired term in Place 1, Jason Webb and Cathy Strathmann.
Highland Village City Council candidates include Mayor Charlotte Wilcox and challenger Jim Archibald (who did not attend); and Barbara Fleming, Dan Jaworski and Richard Rega vying for the unexpired Place 4 term of Patrick Coon who resigned on Dec. 14, 2015.
Lewisville ISD Board of Trustees candidates for Place 4 are Katherine Sells and Fairooz Adams. Place 5 candidates are Will Ferson, Allison Lassahn, and Jenny Proznik.
Election Day is Saturday, May 7, with early voting running from April 25 through May 3. The last day to register to vote is Thursday, Apr. 7.
See videos of the forums below.