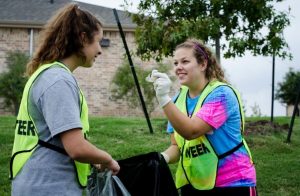 Help keep Flower Mound clean and green at the annual Spring Trash Off & Environmental Fair on Saturday, Apr. 2.
Sponsored by Keep Flower Mound Beautiful (KFMB), the day kicks off beginning with registration at 8:30 a.m., in the parking lot of the Flower Mound Home Depot, 852 Long Prairie Rd. The first 300 volunteers will receive event T-shirts.
Breakfast of hot coffee and bagels will be available for all morning volunteers. Registration for the cleanup is still available. To pre-register, click here.
All volunteers will receive supplies and then be sent to various areas—parks, trails, creeks and roadways– in Flower Mound to clean up trash and collect recyclables. The collection results will be gathered and prizes for most trash collected and most-recyclables collected will be awarded. In addition, lunch will be provided, as well as door prizes.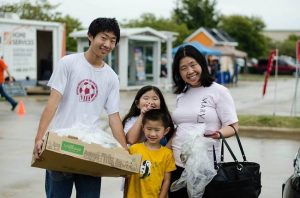 The Environmental Fair begins at 10 a.m. It includes booths promoting positive environmental practices—indoor and outdoor– water conservation, composting, gardening, native plant usage and sustainability.
There will also be a climbing wall, kid's activities and an inflatable obstacle course.
* Trinity Forks Chapter of the Native Plant Society of Texas will hold a plant sale featuring over 60 native plant species.
* The Lions Club will be offering free eye-screenings and collecting usable eye glasses.
* "Shred It" will be providing free document shredding to all Flower Mound residents.
* Best Buy will be collecting small- to medium-sized electronics for recycling.
* CCA will be collecting gently used clothes, appliances and housewares.
* CoServ is proving a climbing wall.
Visit: www.kfmb.org  to see a full booth-vendor list and more information.
KFMB Rain Barrel Sale
KFMB is currently holding an online pre-order sale for the Ivy 50-gallon rain barrel from Rain Water Solutions.
The rain barrel is currently $69.95; a 45-percent discount off the regular $129 retail price.
Each rain barrel comes with installation instructions and is made from 100-percent recycled material. Pre-orders will be taken until March 27, pick up will be during the trash event Saturday, Apr. 2, between 10 a.m. to 1 p.m.
Visit: www.RainBarrelProgram.org/flowermound