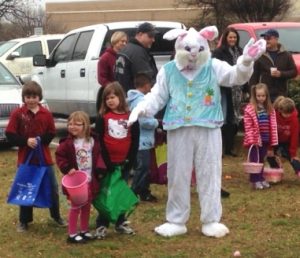 Double Oak families are invited to attend a pancake breakfast and Easter egg hunt at Town Hall at 9 a.m. on Saturday.
Pancakes, sausage, coffee and juice will be prepared and served by Double Oak Women's Club members. The price for breakfast will be $3 per adult and $1 per child.
Admission to the Easter Egg Hunt will be one dozen filled plastic eggs per child (or $3 each if they don't bring eggs).
Sign in at breakfast so the eggs can be hidden while your family eats and be sure to bring a basket.
The Easter egg hunt will start at 10 a.m. Breakfast will be served from 9 to 11 a.m.
The Double Oak Women's Club is in need of bags of candy for the egg hunt. Drop off totes are located at Town Hall and Terry Kennewell's front porch at 105 Lake Trail Dr.
If you would like to help work the event, please contact the Terry Kennewell at [email protected] or call/text at 940-594-5868.