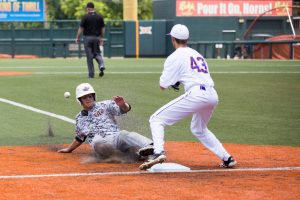 The acclaimed sports writer Thomas Boswell once wrote: "More than any other American sport, baseball creates the magnetic, addictive illusion that it can almost be understood."
There is a certain mysterious beauty about the National Pastime that draws us back year after year to those hallowed diamonds of grass and dirt that remind many of us of some of our happiest moments in life.
Perhaps its the warmer weather or the smell of hotdogs grilling and peanuts roasting, but baseball holds a special place in hearts of a lot of sports fans, and the schools of southern Denton County certainly did their part last season to represent the region quite well on the diamond.
The Marcus Marauders were ranked first in the state and fourth nationally at one point in the 2015 season, but came up short against Coppell in the second round of the playoffs.
Marcus coach Jeff Sherman said that he expects second baseman Alex Jackson, short stop Jimmy Glowenke, and centerfielder Alex Albright to lead the way for the Marauders this season. He said that there could be a significant challenge for his team heading into the season.
"Right now, we like our pitching, but we are waiting for someone to step up and want the ball in a big game," Sherman said. "With these tournaments, we will find out quick."
To pick up where it left off in 2015, Sherman said it will take one thing in particular.
"We think we have enough fire power with our hitting and defense," Sherman said. "For us to get to the playoffs and hopefully have a long run will be how our pitching comes together."
Over at Flower Mound High School, the Jaguars are coming off of a phenomenal season; finishing 29-6 overall and going three rounds deep in the playoffs.
Coach Danny Wallace said that spirits are high as the Jags try to recapture last year's momentum.
"We are excited for a new season and the challenges that we will face in our very difficult district," Wallace said.
The Flower Mound coach returns a number of strong players, including starting pitchers Caleb Kilian, (5-2 – 1.50 ERA) and Parker Scott, (8-1 -1.46 ERA), along with Nick Thornquist (.282), an all-district catcher last season, and Skyler Cox (.293) in left field.
Flower Mound went 16-0 in district competition and won the district title, and Wallace said that they, along with Hebron, Marcus and Plano, "are all strong candidates to win our district."
"Several new players at key positions will be playing for us and those players will play a big role in our success as we expect to be very good on the mound," Wallace said.
Moving up north to Denton, the Guyer Wilcats baseball team finished third in district with a 7-7 record in conference play in 2015; and, lost to Marcus in the bi-district round of the playoffs.
The Wildcats return three starters from last year's lineup, including first-team all-district outfielder Connor Herriage (.368, 4 doubles, 18 runs scored) and short stop Willie O'Brien (.293, 7 RBI) who was a second team all-district selection.
Catcher Luke Cullum (.229, 11 runs scored) also returns as an anchor behind the plate for the Wildcats, and Herriage was also the number two starting pitcher for Guyer last season.
Coach Johnny Kinzy predicts that his team will capture one of the top four spots in district this season and said that he sees Keller and Byron Nelson as the teams to beat.
Over in Argyle, the Eagles made an historic run and brought a 4A state championship for the sport of baseball to Argyle High School last season.
The Eagles defeated Wylie and West Orange-Stark to win a state championship last season, and coach Ricky Griffin said that he does not expect much of a drop-off this season.
"We should have a strong team," Griffin said.
The Eagles return a couple of strong players from last year's team, including Tanner Boyzuick and Connor Mushinski.
Griffin said there is some inexperience on this year's team, and in order to repeat on the success the team enjoyed last season, it is going to take one major thing.
"We are very young," Griffin said. "It will take the older players accepting larger roles."
For the Liberty Christian baseball team, a 23-9 record and trip to the playoffs in 2015 have the Warriors hungry for more in 2016. Coach Johnny Isom said he is optimistic about his teams' chances.
"Things are off to a real good start for us and it starts with our kids," Isom said. "The kids are working hard every day and they come to the field with the mentality of getting better. Amazing things can happen when you get a group that understands why you coach them hard."
Liberty Christian reached the bi-district round after finishing third in district competition last season; and have some good returning talent from that team.
"With 14 seniors on the roster in 2015, we do not have a ton of returning starters," Isom said. "Senior Taylor Barber (.310 AVG., 2HR, 21 RBI) will return as our starting catcher and bat in the four-hole. Senior Christian Julius (.346 AVG., 2HR, 19 RBI) will return as a starter in our infield and bat in the three-hole. Sophomore Kason Howell will occupy one of our outfield slots and be our lead off hitter, and sophomore Dawson Barr (0.47 ERA, 29.1 IP, 28 K's) will be a key member of our pitching staff."
Isom said he expects Prestonwood Christian in Plano to be the Warriors most difficult opponent this season. He said to get to the postseason again, it is all about the fundamentals.
"Just like all seasons, we will need to play solid defense, throw strikes, and get timely hits," Isom said. "If we do those three things then we will be in very good shape in 2016."