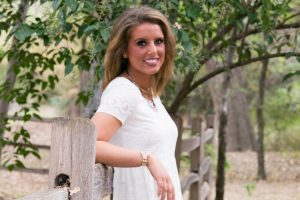 Eighmy Dobbins is an Argyle High School senior who is crazy about volleyball. She is headed to Texas Tech next school year to play the sport and also participates in club volleyball.
A member of the Fellowship of Christian Athletes and National Honor Society at Argyle High School, Dobbins said that she does what she can for the school because she loves the experiences she has had.
"I think its fun to be involved because you get to know different kinds of people and get more exposure to different things," Dobbins said. "It kind of helps you figure out what you want to be in life and what path you want to take."
Dobbins, 18, grew up in Trophy Club and then moved to Argyle, and said that one of the things she loves the most about her school is its small size.
"I get to know more people, and then I'm also close with the principal, and I'm close with my teachers," Dobbins said. "It's more like one-on-one stuff than big group settings, and you really have a close group of friends."
Dobbins is also a member of a newly-formed senior committee that helps make decisions regarding school events. She also gives private volleyball lessons to earn income on the side.
The AHS senior said that she hopes to study fashion marketing in college and said that if she had one superpower, she knows what it would be.
"I think if I could fly it would be pretty cool," Dobbins said. "I like to travel, and not having to pay airfare would be awesome."
Dobbins said she will remember the success that she and her team had in volleyball and the relationships she has fostered.
"I've made so many friends in the year," Dobbins said. "I've made friends with all different kinds of people, and that's awesome."
Dobbins has a 94.9 grade point average.
Eighmy's Favorites
Favorite Subject: English
Person Who Most Inspires Me: Mother
Favorite Athlete: Steph Curry
Favorite Sports Team: New York Yankees
Favorite Food: Chocolate Chip Pancakes
Favorite Movie: Clueless
Favorite TV Show: Gossip Girl
Book Currently Reading: Candide
Favorite Musical Group or Performer: Justin Bieber