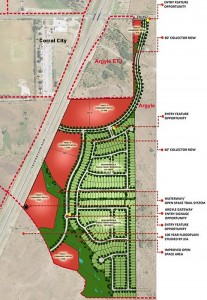 A mix of residential, retail, restaurants and office space is on the table for Argyle's I-35W corridor.
At its March 1 meeting, the Argyle P&Z Commission approved the proposed Avalon at Argyle development for mixed-use. It will be considered for final approval at the Town Council meeting on March 22.
The Planned Development consists of approximately 134-acres of land along the east side of I-35W and south of FM 407, across the interstate from Paradise Foods in the hamlet of Corral City.
The project is under the direction of a familiar name in North Texas, Mehrdad Moayedi of Centurion American Acquisitions. The River Walk in Flower Mound is probably the most well-known Moayedi development in the area.
"Staff believes that this will be a good project for the Town," said Matthew Jones, director of Community Development for Argyle.
The Planned Development zoning designation allows up to 504 total residential units, including an option of 320 maximum multi-family units; which is not included in the Avalon development.
"If you look at the current zoning, the proposed development will actually result in a net decrease in the overall density of residential development, since the applicant has removed the multi-family component," said Jones.
There will be a variety of 334-single-family residential home styles, including both single-family-attached—such as townhomes—and single-family-detached, with lot sizes ranging from approximately ¼-acre to sizes similar to those in Lantana or Canyon Falls.
Avalon at Argyle will include approximately 39-acres of commercial property, as well as approximately 22-acres of open space with parks and trails that will provide connectivity between the neighborhood and the retail center along I-35W.
Moayedi and Centurion American Acquisitions approached the town at the beginning of October 2015 with the Avalon proposal. The P&Z commissioners were concerned that the initial plan included only 17-acres designated for commercial use, plus a lack of separation between the residential and commercial usage.
The developer revised the original plan to include a drive with additional landscaping to serve as a buffer between the commercial and residential properties. In addition, the commercial area– featuring a Southlake-style mixture of retail-restaurant-office-service businesses—was more than doubled.
"The applicant worked with staff and took the concerns of the P&Z Commission, in order to come forward with a plan that provides a viable commercial product along I-35W; as well as a quality residential development for the Town," said Jones.