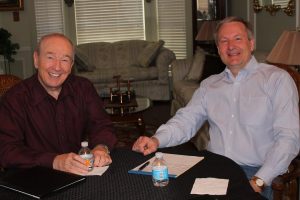 Well, it's time for another Flower Mound Town Council campaign and there's a full complement of candidates, including for Mayor and three seats on the Council.
One of those seats, Place 4, is open because Councilman Steve Dixon, who currently holds the Mayor Pro Tem seat, has decided not to run for a third term.
In January of this year, Don McDaniel, who had announced his intention to run for the seat, was my guest for a video interview shortly thereafter. Mr. McDaniel's interview can be viewed here.
Recently, another candidate, Jim Engel, signed up to run for Place 4.
Mr. Engel came over for an interview in which he talked about his reasons for running, including his views on the salient issues facing our town.
Mr. Engel, who you may have seen at many council meetings during the past two years, has expressed his opposition to the increased population density in Flower Mound, which resulted in the elimination of numerous trees and other natural surroundings that helped perpetuate the rural image so many residents had in mind when they moved here.
In the video below, Mr. Engel addresses some of those issues.
The election will be held on May 7th. Early voting will begin on April 25th and run through May 3rd. Please check the Flower Mound town website at: www.flower-mound.com for details.