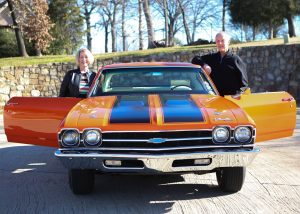 Imagine tossing your car keys to the nearest 13-year-old playing in the side yard.  The father of Double Oak's Roger Day did just that.
"I was the youngest of 10 children on a farm where everyone had to help.  I wasn't bulky enough for heavy lifting, [like tossing hay bales], but I could drive the truck in a slow, straight line while my four brothers loaded its bed," said Day.
He drove a tractor early in life, too.  The Day family worked together to produce, at various times, cotton, rice, and soybeans.
The year before he learned to drive, Day fixed a box full of broken alarm clocks he found in the farmhouse attic.
"I discovered mechanical repairs came easily to me," he said. "I also hung out and learned by helping my brothers tinker with their cars."
At 16, he got a driver's license, then in 1966 graduated from high school. He went to work full-time for a Kansas City company that designed engine-cabling systems for big automobile manufacturers.  Three years later, the boss put him in charge of the Parts Cost Analysis Department.  Not bad for a kid who started first grade in a one-room country school house.
Every day on the way to work he drove his 1966 Chevelle SS past a Chevrolet dealership.  One morning a new car on the lot caught his eye; and fired up his imagination.  He pulled in for a closer look.
"I was surprised at the details on the sticker," said Day.
It was a COPO (Central Office Production Order), as opposed to RPO (Regular Production Order), which include vehicles available to the general public. Dealers buy large-engine police and fleet cars from the manufacturers via the COPO system.
The flamboyant orange 1969 427 Chevelle– with eye-popping black racing stripes on the hood, automatic transmission and cream colored leather upholstery– was the only COPO vehicle produced that year at the Kansas City GM assembly plant.
As a matter of fact, the car was one of only 99 total General Motors COPO's produced that year.
Today autos are classified as antiques, classics (1955-57 Chevrolets), muscle and modern cars.
Manufacturers designed "muscle" engines for high-performance, a euphemism for fast speeds.
The 427 Chevelle had a super-high performance engine, thanks to dealer-ordered modifications made by Dick Harrell; a member of the National Hotrod Racing Association with a shop in Kansas City.
"The mid-1960s through 1970s were the big car engine glory days," said Day. "A normal car engine back then was built with 396-cubic-inches of relative power.  Big-block engines of my Chevelle's 427-cubic-inch size were built to race on an oval track or a drag strip."
Pressing its gas pedal to the floor was equal to shouting: "Giddyup!" to a team of 450 horses chafing at the bit.
Has he ever driven on a track?  No.  "But the Chevelle never lost a quarter-mile street race."
Street racing?
"All the guys did it back then," said Day. "Mostly, it happened on a flat stretch of country road away from town, and, well, policemen.  I never got a ticket."
Today, we see street races on cable channel shows that start with the disclaimer: 'don't try this on your own.'  As any viewer will tell you, there's a good reason for the warning.
"These days high performance engines strut their stuff on oval tracks and drag strips," he said.
Some of the drivers go on to become professionals; or appear in movies, like the Vin Diesel "Fast and Furious" series.
The object of a point-to-point or drag race is to go the quarter-mile distance faster than the competition.  How fast did the 1969 Chevelle go?
"Let's just say I once saw the speedometer peg at 0."
Engines like that need to "growl" on legal venues; so if you get the urge, find a drag strip.
Roger and his Chevelle parted ways about a year after its purchase.
"I was about to get married, and couldn't afford an engine repair, so I traded the car at the dealership," he said.
Since then [1971], he's owned about 30 regular cars and trucks, which he maintains himself.
On and off he wondered what became of the Chevelle.
"A couple of years back I surfed the internet to see if it might still be around," said Day.
After a couple of "hiccoughs," it turned up for sale by VIN number. Day still had the original purchase paperwork.
"I found it sitting out on an Illinois farm under a coat of white paint," he said.
The total restoration began by disassembling the whole vehicle.  The word "complete" applies in its fullest sense to the disassembly.  He has a photo of the naked steel frame laying on the repair shop floor before and after cleaning.
"I kept usable original body parts and bought replacements for the rest," he said.
His detailed photo album tells the whole part-by-part story.
"A lot of professionals contributed their skills where I needed help," said Day.
He didn't rebuild the old engine. Finding pieces was a nationwide scavenger hunt.
"I built a brand new 427 engine myself with genuine 1969 parts," he said proudly. "The car out in the garage today is an exact replica of what came off the General Motors assembly line in 1969.  Its value is mostly sentimental."
Catch a glimpse when it sometimes basks in the sunny driveway on the corner of Oakview Drive and Timberleaf Drive in Double Oak where the Days have lived since 1987.
Years later he entered the finished project in the Muscle Car and Corvette Nationals in Chicago. It got a total of 994 out of a possible 1,000 prize-winning points.  The judges went over the vehicle with a proverbial fine-tooth comb.  The 6 lost points were for what lay persons might call negligible items–like wrong colored bolts.
Day's project has been featured on television, in magazines and won an array of awards.  He's got a couple of triple-decker trophies with flame-covered columns.  His first was Best of Show in the Chevelles Only "People's Choice" contest near Nashville, Tenn.
"I was particularly proud of that one, because it was participant judged," he said.
In 2013, he walked-off with a prize from the Northern Ohio Chevelle Club near Cleveland.
In 2014, his car became one of the top four winners at the Mid-Atlantic Chevelle Show in Maryland.
"It's fun to go to the shows, see the cars, hear the noise, and watch the 'cruises.'" Day said. A cruise is similar to a parade but not quite so slow.  "Big engines will suffer damage if they creep a long distance, so we don't take the car in parades."
His children, two girls, did not develop a taste for fast cars.
"To them cars were just transportation."
His delight in things automotive skipped a generation though, because two of his grandchildren are boys, who love the car and the fun of the shows.
Roger and his wife, Karen, went on their first date in the 69 Chevelle on Memorial Day weekend in 1970; that was almost 46 years ago.
"A couple of weeks later we got engaged," Day said. "The decision was impulsive and more mature people said the marriage wouldn't last; but I guess we're going to make it."
You could say they are still living life in the fast lane after all these years.
Contact Noelle Hood at [email protected]