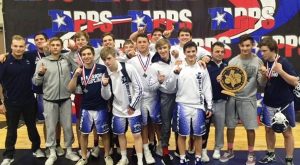 Twice in the last three years, Liberty Christian School's young wrestling program that began just 10 years ago has won Texas Association of Private and Parochial Schools (TAPPS) State and the Triple Crown, the ultimate achievement in Texas preparatory wrestling.
Much hard work led to victories in a succession of three state level events within the last month, the Prep Dual State Championship in McKinney, the Texas Prep State Championship in Houston, and TAPPS State Championship last weekend in San Antonio.
Last year, the team won second at TAPPS State, coming in right behind the first place winner by just a few points. This year, the Warriors won first place soundly by more than 50 points.
The top three individual winners in each weight class from the Texas Prep State Championships will travel to Lehigh, Penn., this weekend for the National Prep Wrestling Championship.