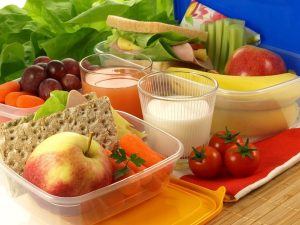 by Courtney Davis, Denton County Extension Agent
As you walk the grocery aisles, you can't miss those 100-calorie snack packs that many manufacturers are offering.  The size of the packaging seems to suggest "prized possessions" and that you should savor each bite.
Christine Gerbstadt, MD, RD, a spokesperson for the American Dietetic Association says, "If you make sure those 100 calories contain a bit of protein, fiber, or fat along with the carbohydrate, it will help keep your appetite in check.  Junk food may satisfy your brain but it does little to satisfy your hunger."
The snacks are very convenient because you can grab them and go and, of course, you know the caloric value.  The downside is the cost and they are not great choices when it comes to nutrition.  Make sure your snack calories count toward filling you up so you don't continue "grazing."  You might save yourself a little money, also.
Fruits, vegetables, and nonfat yogurt are good choices because you get more to eat, they are generally lower in cost, and will make you feel fuller with fewer calories.  To consume 100 calories of celery, you would have to eat more than one pound!  You only get about 12 potato chips for that same 100 calories, or ½ a donut, 1 chocolate chip cookie, or ⅓ of a chocolate chip bagel.
Perhaps you don't think there are a lot of choices for a 100-calorie snack; however, the following list, shared by experts, should change your mind:
half an apple with 2 teaspoons of peanut butter
an orange and a few dry-roasted nuts
10 cashew nuts
10 almonds
2 ounces of lean roast beef
half a small avocado
1 seven-grain Belgian waffle
½ cup frozen orange juice, eaten as sorbet
4-6 ounces of no-fat or low-fat yogurt
2 cups carrots
1 cup grapes
2 cups blueberries
3 handfuls unbuttered popcorn, with herbs
You could also have 3 ounces cooked whole-grain noodles with 1 fresh tomato and ½ ounce of hard cheese; 4 mini rice cakes with 2 tablespoons low-fat cottage cheese; 3 ounces low-fat cottage cheese with 3 whole-wheat crackers; ¼- cup fat-free ranch dressing with mixed raw veggies; or 1 small baked potato with ½ cup salsa and 2 tablespoons of fat-free sour cream.  Only 100 calories are in ⅓ cup of unsweetened applesauce with 1 slice of whole-wheat toast, cut into 4 strips for dunking; 2 large graham cracker squares with 1 teaspoon peanut butter; a 5-ounce tossed salad with lettuce, tomato, cucumber, and ¼ cup of fat-free dressing; or 6 wheat crackers with two teaspoons of peanut butter (or any nut butter.)
Remember, a healthy snack provides fiber and nutrients and is low in added sugar, fat, salt, and calories.  Make your snack count!
Courtney Davis is the Denton County Extension Agent for Family and Consumer Sciences.  She can be reached at 940-349-2882 or [email protected].