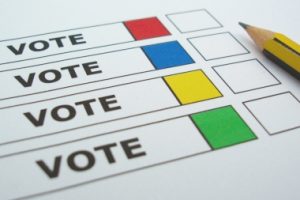 The candidate filing deadline has passed for area municipal and school board elections this spring, and a host of familiar names and a few newcomers have thrown their hats into the ring for a chance to serve their communities in an official capacity.
Here is a list of candidates vying for office on May 7:
Argyle
There will be no town council election this May, as all three incumbents in Places 1, 3 and 5– Joey Hasty, Eric Lamon and Marla Hawkesworth– submitted applications for re-election and will serve for another two years.
Bartonville
Two out of three spots on the town council will be contested.
Running unopposed for re-election as mayor is Bill Scherer.
Candidates for Town Council Place 2 are: Jaclyn Carrington, incumbent; and, Richard Yerxa.
Candidates for Town Council Place 4 are: Betty Medlock, incumbent; and, Jim Murphy.
Members serve two-year terms and represent the community at-large.
Copper Canyon
Ballots will not be necessary this May as no one filed to challenge the three incumbents; Place 1 Deputy Mayor Pro Tem Steve Hill, Place 3 Council member Valerie Cannaday and Place 5 Councilman Bill Castleman.
Double Oak
Council members will run unopposed, as incumbents Anita Nelson and Ted Gruenloh filed to keep their respective seats.
Andrew Wills filed for the third seat, which is now occupied by Deputy Mayor Pro Tem John Dondrea, who did not seek re-election.
However, voters will decide on a sales tax revenue measure on the ballot to help cover the costs of running the town, such as paving roads and covering public safety expenses for ambulance, fire and police.
Flower Mound
Running for re-election are Tom Hayden for mayor and Bryan Webb for Place 2 on Town Council. Place 4 council member Steve Dixon is not running for another term on council.
Hayden is being challenged by Janvier Scott and Jim Berendt.
Sandy Fambrough will challenge Webb for his Place 2 seat.
Candidates for Place 4 are: Don McDaniel, a P&Z Commission member and 2015 council candidate; and, Jim Engel.
In addition, the election will include a Special Election for the unexpired term in Place 1. It is currently being filled by former council member Mark Wise; he announced he will not be a candidate.
The Place 1 position opened following the October 2015 resignation of Brian Rountree.
As of March 1, candidates for Place 1 are: Jason Webb; and, Cathy Strathmann. The timeline for filing an application for Place 1 runs until March 7.
Flower Mound council members serve two-year terms, each representing the entire community.
Highland Village
The City of Highland Village will elect officials for City Council Place 1 (Mayor), Place 2, Place 4, and Place 6, currently held by: Charlotte Wilcox, mayor; Michelle Schwolert, Place 2; former council member Louis Robichaux, IV, newly appointed to serve the unexpired Place 4 term of Patrick Coon who resigned on Dec. 14, 2015; and, John McGee, Place 6.
Wilcox has filed for re-election as mayor and is being challenged by Jim Archibald.
In the Place 4 seat, three people have filed: Barbara Fleming, Dan Jaworski and Richard Rega.
Incumbents Schwolert, Place 2, and McGee, Place 6, will run unopposed.
Highland Village City Council members serve two year terms.
Lantana
All six incumbents on both of Lantana's Fresh Water Supply District boards (Denton County Fresh Water Supply District #6 and Denton County Fresh Water Supply District #7) filed to keep their seats and no one else filed.
District #6 directors Kurt Sewell, Jim VanVickle, and Sheldon Gilbert, and District #7 directors Randy Fogle, Steve Spence, and Todd Beggs, will serve four-year terms on their respective boards.
Argyle ISD
In the May election, Argyle ISD Board of Trustees will have two seats open; the one currently held by board president Brian Ratcliff and the currently vacant seventh seat previously held by Greg Aune, before he moved out of the district. Each board member serves a three-year term.
Filing for a place on the Board, by filing date, are: Brian Ratcliff (incumbent); Brad Lowry; Wes Timmons; Jennifer Pakebusch; and, Jeff Williams.
Unlike some area Boards of Trustees whose members are candidates for a specific Place seat, the AISD Board members are elected on an at-large basis. The top two vote recipients will become board members; specific offices are determined by the board itself.
Denton ISD
There was little interest in the three seats up for grabs.  Incumbents Charles Stafford and Mia Price are running unopposed. Dr. Glenna Harris is not seeking re-election. Doug Chadwick filed for her seat.
Lewisville ISD
Lewisville ISD will have school board Places 3, 4 and 5 up for election. These seats are currently held by Angie Cox, who is running unopposed in Place 3. The other two incumbents, Kris Vaughn and Brenda Latham, did not file for re-election.
Candidates for Board of Trustee Place 4 are: Katherine Sells of Lewisville; and, Fairooz Adams of Lewisville, a student at SMU.
Candidates for Board of Trustee Place 5 are: Will Ferson of Flower Mound; Allison Lassahn of Highland Village; and, Jenny Proznik of Frisco.
Voting
Election Day is Saturday, May 7, with early voting running from April 25 through May 3. The last day to register to vote is Thursday, Apr. 7.
All elections in Denton County are under the Denton County Elections Administration, 701 Kimberly Dr., Suite A101 in Denton. Questions about early voting via mail (absentee) or in-person, specific voter identification information or restrictions are available at: www.votedenton.com, [email protected], or by phone at 940-349-3200.