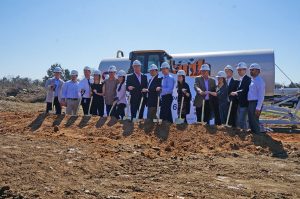 Stryker Communications on Thursday celebrated the groundbreaking of its future expanded facility in Flower Mound.
Stryker's new facility will be more than 200,000 square-feet and employ over 400 employees.
As part of the expansion and relocation to a larger facility, Stryker plans to consolidate its Charleston, S.C. and Coppell locations to the new regional headquarters site.
A 10-year incentive agreement was approved by the Flower Mound Town Council during its Jan. 21 meeting.
A top private employer in Flower Mound, Stryker opened its doors in the Lakeside Business District in 2005 with more than 200 employees.
Stryker uses the facility for sales, marketing, research and development, as well as light assembly of integrated surgical suites technology found in hospitals and surgery centers.
Following the ceremony, construction crews started work on the new building.