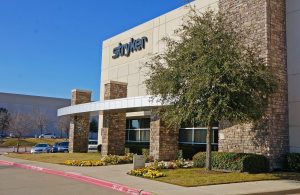 An invitation to remain in Flower Mound's business "family" was extended to Stryker Communications by the Flower Mound Town Council during its Jan. 21 meeting.
It approved the requested Master Plan land use change from Campus Commercial to Campus Industrial, a rezoning request, a new incentive agreement and a tree removal request for construction of two office/warehouses, totaling approximately 400,000 square feet on the 41.24 acre development in Lakeside Business Development.
"This is a big win for Flower Mound, one that has been in the works since 2014, when Stryker discussed the possibility of expanding in Flower Mound or relocating to another community," said Flower Mound Mayor Tom Hayden. "It was an easy decision to work together, for the best interests of both Stryker Communications and the town to keep them right here, in Flower Mound."
Named one of the "Best 100 Places to Work" by Fortune Magazine, Stryker Corporation has been in business in the medical field for 75 years, with $9.7 billion in sales in 100 countries and more than 26,000 employees worldwide.
The Stryker Communications division has been in Flower Mound since 2005, after the 2004 Town Council passed an incentive 380 Agreement for 10-years covering specific rebates, exemptions, and fee waivers.
After opening its doors for business, it was the largest private employer in town and the return on that investment has been extremely successful, officials said. In addition to new residents' property taxes, retail and restaurant sales tax revenue and many other positive impacts, its sponsorship of charitable events include the 5K Around The Mound event and providing school supplies the Denton County Children's Advocacy Center clients.
At its present location in the Lakeside Business District, Stryker uses the facility for sales, marketing, research and development, as well as light assembly of integrated surgical suites technology found in hospitals and surgery centers. Currently, it employs 230 professional employees, which is expected to grow to 400 by 2030. It has already outgrown its existing facility.
During a presentation by CIT Acquisition Corp., Vice President Will Mundinger, on behalf of Crow Holdings Industrial, said the new buildings will grow its town presence from its current 120,000-square feet to approximately 300,000-square feet. The expansion is needed to meet Stryker's new plan to make Flower Mound its main location, consolidating its 52,000-square feet of space from its Charleston, N.C., facility and 40,000-square feet of space from its Coppell location. The new office portion will be larger than any office building in Flower Mound.
Representatives from Stryker said that although other communities had approached the company to relocate, the company has kept its focus on expanding in Flower Mound "so as not to lose our employees."
"Regional headquarter location opportunities with companies of Stryker's caliber are few and far between, so when you have one in your own backyard, you make every reasonable effort to ensure they stay," said Mark Wood, Flower Mound Economic Development Director. "Any community would be lucky to have Stryker. They give back to the community through local charitable donations, treat their employees well, and are overall a great corporate citizen."
Mundinger's presentation was in response to the concerns and following denial by the Planning and Zoning Commission for the land use and rezoning requests by Stryker.
The P&Z concerns were: Lakeside Parkway aesthetics; site lines from FM 2499; Building 2 design elements; and specifics related to environmental and open space areas.
Mundinger presented a slide show and provided answerers to the P&Z concerns, as well as specific questions from council members.
The developer will be planting from 200 to 250 trees along Lakeside Parkway, which will include 175 Oaks; all of them will be 6-inch caliber, rather than the usual 3-inch required. The additional trees will address the aesthetic concern, plus balance the removal of eight specimen trees.
The view of the Stryker building will be obstructed by existing trees in the one-quarter-to-one-half mile distance from road to building.
In addition, of the total 41.24-acres, 25-percent (approximately 10-acres) are environmentally sensitive and will remain untouched between Stryker and Building 2. Also, the structures will be LEED Certified as energy efficient.
"I'm really impressed how you went back and turned around the concerns that the P&Z expressed," said Councilman Mark Wise. "This is a company that makes things that save people's lives."
During the public hearing section, a concern about truck traffic on Silveron Boulevard and traffic congestion was raised, but Mundinger answered that the 10-to-12 daily deliveries would be mainly of the UPS or FedEx type, or Stryker-directed. As such, the Lakeside Pkwy delivery entrance would be used, rather than driving through a parking lot from Silveron.
Two speakers opposed the 380 Agreement for incentives.
Katie Lowe questioned a reimbursement of up to $62,500 for employee amenities, specifically the soccer field and basketball/sports court being an employee recruitment tool.
Councilman Kevin Bryant said that being able to outside and be physically active provides a chance to take a break and then work better on projects. It's part of what goes in to why Stryker is listed on nine separate "Best Places to Work" lists. It also guarantees green space and a buffer.
Speaker Renee Doyle said she was so upset about the new 380 Agreement that she could barely talk. She said that the 2004 agreement gave Stryker $2.5 million in incentives and now they're back 10-years later asking for another incentive agreement.
"The town got what it wanted, which was for the building to get built and Stryker to occupy it," said Wood. He added that after Stryker relocates from the original building, the town will continue to benefit from the agreement through new tenants for years.
Wood also pointed out that the new 380 Agreement is for a new development, not more incentives for the original agreement.
The new 10-year incentive agreement calls for the town to provide a rebate of 75-percent on real and business personal property tax, a rebate of sales tax of one-percent of the general fund the town receives on taxable purchases, a reimbursement of up to $62,500 for employee amenities and a waiver of impact and building permit fees.
For its part, Stryker agrees to construct a building with at least 200,000 square feet, have no fewer than 200 full-time employees and remain in Flower Mound for a 10-year term.
Mundinger added that the new facility will serve as Stryker's national conference center and will bring in 40 groups per year.
"The indirect benefit is that there will be 400 high-paid employees shopping and eating in Lakeside," Hayden said. "And those people who are coming in from out of state, they're going to need a place to stay."
He pointed to the benefit for the town's two new hotels—The Marriott in The River Walk at Central Park and The Pearl on the Peninsula near Lakeside DFW—when they are complete.
"This project exemplifies the type of businesses we've been working to get," said Councilman Bryan Webb. "This is the 'good' stuff and what– not only this council, but all the councils back to 2004– have worked for."