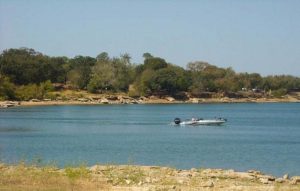 The U.S. Forest Service on Thursday withdrew 31,169 acres of national forest lands in Texas from a Bureau of Land Management fossil fuel auction slated for April 20 in Santa Fe, N.M., however Lewisville Lake is still on the auction list.
The move responds to concerns raised by environmental groups and local governments about fracking impacts, and comes one day before the Friday public protest deadline on the lease-sale plan.
Environmental groups on Feb. 9 called on the Bureau to halt the sale because of harmful environmental and climate impacts, public-safety concerns and the lack of notice provided to potentially affected residents. The withdrawn parcels constitute the vast majority of the 36,000 acres of public lands in Texas, Oklahoma and Kansas that were slated for the April auction.
"We're very pleased that the Forest Service pulled these lands to allow time to notify the public and address our concerns, but the reality is that no public oil and gas leases should be sold," said Wendy Park, an attorney with the Center for Biological Diversity. "Oil and gas drilling results in the clearing of valuable public forests for well pads, roads and pipelines, while fracking threatens watersheds and public water supplies. Public fossil fuels must remain in the ground if we are to avert the worst impacts of climate change."
A nationwide study last year determined that halting new federal fossil fuel auctions on lands and offshore areas controlled by the U.S. government would keep up to 450 billion tons of greenhouse gases from polluting the atmosphere. Hundreds of people have turned out for "Keep It in the Ground" protests of BLM fossil fuel auctions across the country in recent months, with several auctions being canceled and author Terry Tempest Williams purchasing parcels in Utah yesterday in protest.
The parcels removed from the April auction are located in the Davy Crockett, Sam Houston and Sabine national forests. Several of the remaining Texas parcels for sale in the April auction underlie municipal water supplies that serve the heavily populated areas of Dallas-Fort Worth, Denton, Brenham and Corpus Christi.
A letter from environmentalists, sent to the BLM and other federal agencies this week, highlighted the potential for fracking beneath Lewisville Lake, Somerville Lake, Lake Conroe and Choke Canyon Reservoir to contaminate drinking water for millions of people.
"As Texas residents and local officials learn about the plans to open up our public lands to oil and gas development they are asking the BLM and other federal agencies for a timeout," said Cyrus Reed, conservation director of the Sierra Club's Lone Star Chapter. "Serious reforms are needed in the BLM auction process so the public has an opportunity to raise concerns and insist on best practices, including not opening up certain lands to development at all."
Separately, Dallas Water Utilities formally requested that 259 acres at Lewisville Lake be removed from the auction, citing concerns over the risk that fracking can cause contamination and exacerbate the dam's "known safety issues." In 2015 the U.S. Army Corps of Engineers determined that the dam is at "high risk" of failure in an extreme event.
A number of cities that rely on Lewisville Lake for their drinking water have also filed formal protests against the leasing plan, including Highland Village, Flower Mound, Double Oak, Denton, Irving, Lewisville and The Colony. Dallas Water and municipal officials echoed environmentalists' concerns that the public did not receive proper notice of the auction.
"Our group along with others sounded the alarm to cities whose vital water supplies could be put at risk in this sale," said Rita Beving, North Texas outreach coordinator for Clean Water Action. "These water supply lakes are at risk not only for water contamination, but also for what potential harm could befall their dams through increased seismicity due to drilling."
"As local agencies and the Forest Service have pointed out, affected communities and local governments need to be involved in the BLM's decisions to auction off public lands for oil and gas drilling, but the agency failed to include them. BLM should follow the Forest Service's lead and cancel the auction altogether," Park said.