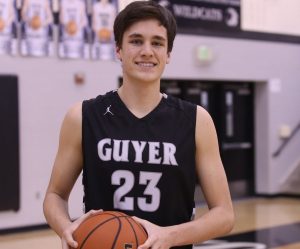 Guyer basketball guard Jake Roberts' jersey number is 23, just like his favorite player of all-time, Michael Jordan.
The junior Wildcats team member is having a phenomenal season, averaging 15-points per game as Guyer ranks around the top of the district 5-6A standings.
Coach Grant Long said that Roberts has been a key to the Wildcats' success this season.
"He brings consistency and leadership on and off the court," Long said. "He's not a loud guy; he just always plays hard and does the right thing. He is a very smart player—a very heady player, who's always in the right spot. He does those little things you need. Besides being a great shooter and scorer, he is also a great rebounder."
Long said that he may be even more impressed by the 6′ 5" guard's work ethic.
"One of the biggest things about him is how much extra he does," Long said. "After every practice, he stays after and shoots. He comes in early and does all that extra work that other kids on the team see, and it become contagious."
Roberts, an honor student at Guyer High School, said that he tries to be the type of player that does whatever he can to help his team win.
"I try to work hard in every game and go and get extra shots that we can put up," Roberts said. "After practice, I stay and I will do shooting workouts. I put in extra time so I can shoot better than I used to and so I can be one of the better shooters on the team."
Roberts' said his passion for basketball extends back to his toddler years.
"My dad bought me a little mini hoop when I was two," Roberts said. "I played soccer when I was five or six, and then played football through middle school, but I've always played basketball. I love the speed of the game and that you get to play offense and defense."
Guyer is right at the top of the district standings as the regular season draws to an end, and Roberts said he has been pleased with what he has seen so far from the Wildcats squad.
"I like this year's team," Roberts said. "I think we're better than we've ever been before. We've got a lot of young guys and we're playing well together."
Roberts said that he and his teammates have some definite objectives for the season.
"I think for me, I just want to try to help my team to get as far as we can," Roberts said. "For the team, we want to have a long run in the playoffs. Hopefully, we can go to state, but if we can't, we just want to go as far as we can."
To have a successful season and a good run in the playoffs, Roberts said it will take a couple of things.
"We're just going to have to pull together and keep moving the ball," Roberts said. "We have to work hard in practices and play good defense."
Long said he feels confident that Roberts will play at the college level, stating Drake University came to watch him play over the summer, and said Roberts is critical to any success Guyer will enjoy over the next two seasons.
"He's really essential, because he's 6′ 5" and can shoot the basketball," Long said. "As a defender, he can guard a big player or guard a guard, so that helps out a lot. Just the way that he can spread the floor, he can score from inside and out, he's just essential to our team."
Roberts' Favorites
Favorite Athlete: Michael Jordan
Favorite Sports Team: Dallas Mavericks
Favorite Food: Mexican Food
Favorite Movie: Batman
Favorite TV Show: How I Met Your Mother
Last Book Read: Life of Pi
Favorite Musical Group or Performer: Drake