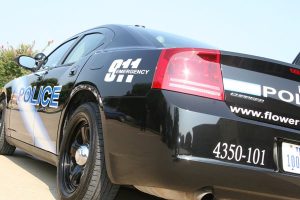 The Flower Mound Police Department, in conjunction with an FBI investigation, has successfully closed 53 "Impersonating a Peace Officer" cases thanks to the work of FBI officials and Flower Mound Detective Devin York.
All of the cases involved suspects posing as local law enforcement and threatening victims to obtain money, between January 27 and November 2, 2015.
The two-year investigation ended in 16 federal indictments of current Georgia Department of Corrections correctional officers, 23 former officers, four current private facility correctional officers, three former private facility correctional officers, one inmate, and two civilians.
During the offenses, suspects randomly called potential victims, identified themselves as Flower Mound Police Officers, and told them they owed money for a red light ticket or missed a jury summons. The suspects ordered the victims to go to local stores and purchase pre-paid cash cards threatening arrest and jail time if the victims failed to comply. After the victim purchased the cash card, the suspects had the victim read the card numbers and the cash would be transferred to the suspect. Total monetary loss from Flower Mound victims totaled $5,915.80.
During the investigation, Detective York issued subpoenas for the origins of the suspects' cell phone calls and was able to link the Flower Mound offenses back to the ongoing FBI investigation. The Flower Mound cases, along with several other North Texas Agencies' offenses were forwarded to the FBI for inclusion with the larger federal investigation.
The FBI discovered that inmates in 11 Georgia Jail facilities were using illegally obtained cell phones supplied by jail employees to commit wire fraud, money laundering and identity theft, including the 53 Flower Mound offenses.
The Flower Mound Police reminds residents that no government entity, local, state, or federal, will ever solicit payment over the phone. Pre-paid cash card pin numbers are the same as cash ‑ once they're given out, they cannot be traced or recovered. Many criminals sound very convincing and will use tactics such as looking up information familiar to you in your area to gain credibility. Suspects may even "spoof" their phone numbers so that caller ID shows they are calling from a police department when, in fact, they are not. If you are ever in doubt about the authenticity of a phone call, hang up and call your local police agency to verify the information you're being told.