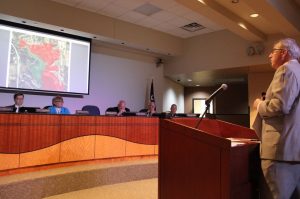 The Highland Village City Council passed a unanimous resolution Monday night to draft a letter of protest against the proposed gas leases for Lewisville Lake.
Under the resolution, the mayor and city manager are authorized to file the protest with the Bureau of Land Management, which is planning to auction gas drilling rights for a section of the Hickory Creek arm of the lake.
Council members received a presentation by city staff on the proposed gas leases which are on property owned by the U.S. Army Corps of Engineers. The property is mostly located in Hickory Creek with a small portion in the Highland Village city limits. The deadline to submit a protest is February 19 and must be done by mail or fax.
Read more from the Lewisville Texan Journal.