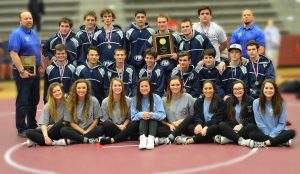 Flower Mound High School's wrestling program just celebrated an impressive 10-year anniversary.
The Jaguars won their 10th consecutive district title on Saturday, Feb. 6, and Coach Steven Davis said that he could not be more happy for his team.
"I was very proud of our performance at district," Davis said. "We have improved a bunch from the beginning of the season.  Had we not, there was no way we could have pulled this off."
Flower Mound started the winning streak in the 2006-07 school year. Davis said that it is a massive accomplishment usually reserved for only the top programs in the state.
"It is rare, but not unheard of," Davis said. "I imagine that Allen and Lake Highlands can probably boast the same, but I'm not sure.  For our team personally, 10 has been a goal now for the past seven years.  It took a lot of luck, and a lot of hard work to pull it off."
The Jaguars qualified 12 wrestlers for the regional meet coming up this Friday and Saturday. Davis said he had a number of strong athletes to help get them there.
"In my mind, the standouts at district were a pair of freshmen, Dylan Karlowsky (106) and Avery Camper (113), who both finished third at the event," Davis said. "Both are rookies.  Without their contribution, a championship would have been very improbable.  I can't remember the last time I had ninth-grade, first-year wrestlers contribute so much to the success of our varsity team.
"In addition to those two, juniors Spencer Behrens (132) and Bataa Douglas (138) both became district Champs for the first time.  Both looked great and seem to be peaking at just about the right time."
The consecutive championship streak is not the only impressive achievement for Davis' team, but the Flower Mound wrestling coach remains rather humble about the other one.
"We have not lost a home dual in 10 years, and we've had some pretty good teams on our home schedule over the years," Davis said. "I'm not really sure if it's a big deal or not, but it is a source of pride for our team."
The regional meet will run Feb. 12 & 13 at Allen High School, and Davis said that there are two major objectives for his team.
"Our goal is for each of our 12 qualifiers to find a way to contribute; and, that we finish in the top three as a team," Davis said. "Considering our inexperience, it is a lofty goal; but, it is attainable."