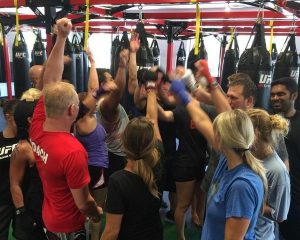 The UFC Gym earns its hashtag #traindifferent and then some!
Located in the heart of Flower Mound in the Robertson's Creek Shopping Center off FM 2499, you will find tractor tires, battle ropes, sleds, punching bags, an Octagon, plus the standard weight-lifting and cardio equipment of a traditional gym.
What sets this gym apart is the diversity of its classes and the sense of community offering a full range of group fitness classes. With everything from private Mixed Martial Arts training, personal and group dynamic training and MMA-style youth programming, UFC Gym creates something for all ages and fitness levels.
"We feel that mixed martial artists are the fittest athletes in the world," said local owner Jeff Matthews. "We take their training methods and incorporate them into each of our classes. However, we are much more than an Octagon.
"I am truly inspired by the friendships we've seen formed, as well as the love and encouragement the gym family shows one another. It is humbling to see what these four walls embrace each day."
The people at UFC Gym Flower Mound are quick to remind you that their facility is not a "Fight Club" and that their members' ages range for 4 to 64. And even though their classes are intense, each exercise can be modified to match your fitness level and members are encouraged to work at their own pace.
Further, the focus on group classes provides additional benefits. In these small settings, you will meet people who have similar lifestyle goals and needs. Those teammates will help inspire and motivate you, as well as help hold you accountable toward meeting your goals.
With nearly 60 weekly classes, there certainly is one that will fit your schedule. Check it out for yourself and see what it feels like to #traindifferent.