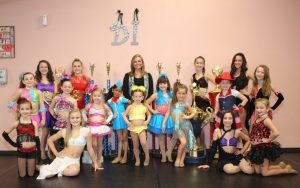 Want to learn how to dance? Not sure which style is the one for you?
Come to Dance Integrity Dance Studio where accredited and experienced staff teach students of all ages the arts of jazz, ballet, hip hop, tap, drill team prep, contemporary, competitive team dancing and more.
Studio Director Lauren Tippins opened Dance Integrity six years ago and has watched it grow from 30 students to more than 200.
Lauren began dancing at the age of 3 and said she decided to open her own studio after she had the opportunity to work at one as an instructor.
"I was on the dance team in college and my degree is in education," Lauren said. "I always knew I wanted to do something with dance, but I was not sure what. When the opportunity to open the studio presented itself, I went with it."
Lauren said that it has been gratifying to watch her company grow the way it has.
"It's been amazing. I'm fortunate to have been able to do something that I love, and it can only get better."
The Dance Integrity Dance Studio's award winning, nationally recognized competitive team has received a Competitive Spirit/Sportsmanship Award in every competition from 2012-2015.
The award is presented to the studio that embodies the true spirit of competition.
"We strive to help our students develop self respect, high self-esteem, and foster a sense of belonging," Lauren said.
Dance Integrity's structured dance programs offer a variety of classes and levels designed to accommodate all dancers' needs. All four dance studio rooms feature StageStep IV floating subfloors for maximum dancer protection. Plus, all 4,000 square-feet of dance surfaces are Rosco Adagio and Stagestep Super Timestep flooring.
The studio is for students ages two and up and is located at 2230 Justin Road, Ste. 250 in Highland Village, next to Kroger.
"We really live by our motto which is that integrity is the essence of everything successful," Lauren said. "We try to do what's best, and we provide a safe environment for the kids. We want them to have good time and to watch their love for dance grow."
The studio can be reached by calling 972-317-2828 or emailing [email protected]. Visit www.danceintegrity.com for more information.