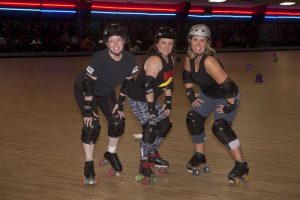 Yahoo defines a "diva" as: someone who is aggressive, sure of themselves, often a successful person who feels as if they know everything and almost always get what they want and won't stop till they get it.
The Texas Derby Divas strive to be all that they can be … on roller skates.
The new Roller Derby organization is forming in southern Denton County this January and it is open to women 18-years and older, regardless of experience or skill level.
Founder Carrie Dopona, 43, aka Baroness Von Booty, and her partners are starting the league as a result of positive experiences each had had in other area leagues. Her "daytime" job is as a risk manager for a medical device company.
"We were in a league and what we were trying to do is take the great aspects of different leagues in the Dallas/Fort Worth area and bring all those great concepts together," said Dopona.
"What's different about ours, is that we are purely recreational. We don't have a travel team, we don't have home teams.
The Flower Mound resident said that the league stresses safety and said that participants who cannot make practices would need to have minimum skills for safety reasons.
"We also know that a lot of the ladies have to work, so we do have practices where they can learn to skate if they don't know how to, but we don't have practice requirements,' she said. "So, if they love to play, but don't have the time to practice, they don't have to feel the stress about making practice credits."
Dopona, who moved to Flower Mound from the Chicago area five-years ago, started roller derby in her late 30's and said the league is open to anyone 18-years and over, regardless of her level.
"We're just one big team, and every month, whoever wants to bout that month will be split up into teams," she said. "It's basically a big match up. What you will see sometimes are teams that are new versus very seasoned teams, and they are just blowout games. We have the capability to make it more fair."
Dopona said she fell in love with the sport almost immediately. The appeal of roller derby for her personally is that she loves team sports. Her sons, Emmerick, 12, and Brett, 8, are also involved with sports.
"I grew up playing team sports, and this gives me the opportunity as a working mom and a wife to be myself," she said "This is my thing. It is great to go and watch my boys play their sports and then have them come to cheer their mom on is really great. I also love that I get to practice for two hours and get a great workout."
Dopona said that she encourages anyone who may have some trepidations about joining the Texas Derby Divas to understand that the league is designed to make participants feel comfortable and safe.
"The other ladies and I were all trainers in the previous league that we were in," Dopona said. "It's not like we just put you out there. We tell anybody that wants to try it to come on out, we will teach you. You are not going to be hit right away and it's all about safety. We have people we've trained that have never worn skates in their lives. Everyone gets to do it at their pace and, until they are ready to move on, they don't have to. We'll teach you no matter what skill level."
Practices are held from 7:30 to 9:30 p.m. on Mondays and Wednesdays at Interskate Roller Rink, 1408 Business 121 in Lewisville.
To sign up, contact Texas Derby Divas at [email protected].
The organization's website is www.texasderbydivas.com.