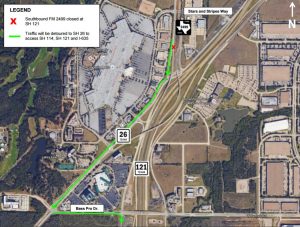 This weekend, construction crews on the DFW Connector project will continue work on a bridge that will cause a detour on southbound FM 2499 in Grapevine.
Starting Saturday morning, crews will finish placing concrete on the new north side of Grapevine Mills Blvd. bridge.
From 7 a.m. on Saturday to 6 a.m. on Monday, there will be a full highway closure on the new southbound lanes of FM 2499. Traffic will be detoured to the southbound FM 2499 frontage road and will follow a detour to access SH 114, SH 121 and I-635.
Crews opened the south side of Grapevine Mills Blvd. bridge, where traffic currently travels, in June 2015. When the project is complete, the Grapevine Mills Blvd. bridge will be eight lanes wide and will also include a Texas U-turn on the north side.