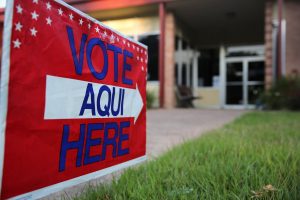 Some may call it "Silly Season," but for many southern Denton County residents, municipal elections are no laughing matter.
The filing period for those brave souls who wish to stand up and serve their towns, special districts and school boards begins on Wednesday, January 20, and runs through Friday, February 19, at 5 p.m.
Here is a look at the open seats this May in southern Denton County:
Argyle
This May, three citizens will be elected, each to serve a two-year term as a council member for Places 1, 3 and 5.  The incumbents for these positions are Joey Hasty, Eric Lamon and Marla Hawkesworth, respectively.
The council places are "at-large" and represent the entire community. The terms of office will be from May 2016 to May 2018.
Candidates interested in filing an application for a place on the ballot can request an electronic Candidate Packet by emailing the Town Secretary at: [email protected], or by visiting Argyle Town Hall, 308 E. Denton St., between 8 a.m. to 5 p.m. Additional information can be found on the Town's website at: argyletx.com/town/elections.html
Note: You must be a resident of the Town of Argyle to run for Town Council.  Living in the 76226 zip code does not necessarily indicate a resident status.  To verify residency, contact the Town Hall at 940-464-7273.
 Bartonville
The 2016 Bartonville Town Council general election is for Mayor and two council members, Places 2, and 4, each for a term of two years.
Those seats are currently held by Mayor Bill Scherer, Jaclyn Carrington (Place 2) and Betty Medlock (Place 4).
Members are elected "at-large," each representing the entire community and serve two-year terms.
All candidates for office must be a resident of Bartonville for six-months prior to the filing deadline; must be a registered voter at the time of the election (but, not required at the time of filing); and, be a minimum of 18-years of age.
Applications may be filed at Town Hall, 1941 E. Jeter Rd. in Bartonville. Town Hall office hours are 8 a.m. to 4:30 p.m., however, there may be certain dates during the election period (refer to the town calendar) when the office will be open until 5 p.m.
For more information contact Town Secretary Tammy Dixon, at: 817-693-5280, or [email protected].
Copper Canyon
This May, residents of Copper Canyon will vote to elect council Places 1, 3 and 5. Currently, those seats are filled by Place 1 Deputy Mayor Pro Tem Steve Hill, Place 3 Council member Valerie Cannaday and Place 5 Councilman Bill Castleman.
For more information, either visit Town Hall at 400 Woodland Dr., in Copper Canyon, contact the Town Secretary at: [email protected], or call 940-241-2677.
Double Oak
In May, three at-large council seats will be up for election. Those seats are currently held by council members John Dondrea, Anita Nelson and Ted Gruenloh.
Contact town hall at 972-539-9464 or go to the town website: www.double-oak.com for more information.
Also, the town plans to place a sales tax revenue measure on the ballot to help cover the costs of running the town such as paving roads and covering public safety expenses for ambulance, fire and police.
Flower Mound
Flower Mound Town Council Members serve two-year terms and are elected "at-large," each representing the entire community.
Council seats up for election will be: Mayor, now held by Tom Hayden; Place 2, held by Bryan Webb; and, Place 4, held now by Steve Dixon.
The 2016 Town Council election will include the unexpired term for Place 1, currently being filled by former councilman Mark Wise. He has announced he will not be a candidate. The Place 1 position opened following the October 2015 resignation of Brian Rountree, who named health issues as the reason.
Flower Mound Town Councilman Bryan Webb announced in December that he will run for a third term in Place 2 this May.
Planning & Zoning Commissioner Don McDaniel also recently announced his intention to seek a council seat.
Mayor Hayden and Place 4 Councilman Dixon have not announced if they are planning to run for re-election.
Qualifications to serve on the Town Council are: be 21-years of age or older on the first day of the term to be filled; have been a resident of the town for at least one-year prior to the election date; and, hold no other public office, except that of Notary Public or a member of the National Guard, military reserve, or Coast Guard reserve.
For more information regarding Town of Flower Mound election or voting procedures, contact the Town Secretary's office at 972-874-6070, or visit the Denton County Elections website.
 Highland Village
The City of Highland Village will elect officials for City Council Place 1 (Mayor), Place 2, Place 4, and Place 6, currently held by: Charlotte Wilcox, mayor; Michelle Schwolert, Place 2; former council member Louis Robichaux, IV, newly appointed to serve the unexpired Place 4 term of Patrick Coon, who resigned on Dec. 14, 2015; and, John McGee, Place 6.
Highland Village City Council members serve two year terms.
Mayor Charlotte Wilcox announced Tuesday night at the Highland Village City Council meeting that she will be filing to run for again in May.
Additional information and candidate packets are available at the Municipal Complex, 1000 Highland Village Rd., or by visiting: www.highlandvillage.org.
Lantana
There will be three board seats up for election in both of Lantana's Fresh Water Supply Districts (known as Denton County Fresh Water Supply District #6 and Denton County Fresh Water Supply District #7).
Each district has a five-member board that consists of property owners from within that district. The boards make key decisions regarding district operations, including overseeing utility services, the building and maintaining roads, sidewalks and other infrastructure, issuing bonds, and setting the property tax rate.
Directors' terms are for four years. See more at http://lantanatx.org/elected-officials/
Argyle ISD
In the May election, the Argyle ISD Board of Trustees will have two seats open; the one currently held by President Brian Ratcliff and the currently vacant seventh seat previously held by Greg Aune, before he moved out of the district. Each board member serves a three-year term.
Those interested in a candidate packet should visit the AISD Administration Building, 800 Eagle Drive in Argyle. Questions may be directed to the Superintendent's office at 940-464-7241.
Denton ISD
The Denton ISD Board will have three seats up for election on May 7, Places 3, 4 and 5. Each seat has a three-year term.
Currently filling those positions are: Place 3, Glenna Harris, M.D.; Place 4, Mia Price; and, Place 5, Charles Stafford.
Those interested in filing as a candidate or for further election information should contact Denton ISD at 1307 N. Locust St. in Denton, visit: www.dentonisd.org, or call 940-369-000.
Lewisville ISD
Lewisville ISD will have school board Places 3, 4, and 5 up for election. These seats are currently held by Angie Cox, Kris Vaughn, and Brenda Latham. Of those members, only Vaughn has said she will not run for re-election this May.
District offices are at 1800 Timber Creek Rd., in Flower Mound. Those interested in the school board may contact the Superintendent's office at 469-948-8022, or visit: www.lisd.net.
Voting
Election day is Saturday, May 7, with early voting running from April 25 through May 3.
All elections in Denton County are under the Denton County Elections Administration, 701 Kimberly Dr., Suite A101 in Denton. Questions about early voting via mail (absentee) or in-person, specific voter identification information or restrictions are available at: [email protected] or by phone at 940-349-3200.
Residents who are not yet registered to vote, must register by Monday, Feb. 1; and, the last day to request an absentee ballot is Friday, Feb. 19—received in the office, not postmarked. The deadline for write-in candidates is Tuesday, Feb. 23.
All voters are required to present an approved form of photo identification; visit: www.votetexas.gov for specifics. Examples of acceptable forms of ID include: driver's license; election ID certificate; DPS Texas personal ID card; concealed/open-carry handgun license; U.S. Military ID card; U.S. citizenship certificate; or U.S. Passport. All forms of ID may not have expired over 60-days.
In addition to local elections in May, Democratic and Republican Party primary elections will be held on Tuesday, March 1.
Most answers to questions about upcoming elections can be found at: www.votedenton.com.