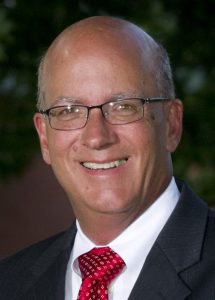 Flower Mound Town Councilman Bryan Webb on Tuesday announced that he will run for a third term in Place 2 this May.
First elected in 2012, Webb lists his key accomplishments as expansion and improvements to the park and recreation system, the opening of the senior center, a growing commercial tax base that allowed for a property tax rate reduction, and instilling leadership in town hall that has improved both the delivery of services to residents and employee satisfaction.
Webb also noted that he worked in 2012 to approve the remodel, expansion and addition of a fuel station at Kroger on FM 1171, which was a highly contentious campaign issue.
Webb, along with Mayor Tom Hayden and council member Steve Dixon, did not draw challengers for their second terms in 2014 and the council election was been cancelled.
Webb said that he has addressed some of the tough issues facing Flower Mound during his time in office.
He hosted a Community Conversation seminar that raised awareness of drug addiction and led LISD to partner with Serenity High School in Allen, TX.
Webb said he has spoken to the challenges the town faces with an aging population and was able to secure funding for an initiative to help homeowners in more established neighborhoods remodel and improve their properties.
"Senior rental housing is one of our greatest housing needs and we need to find a way to make it a reality," stated Webb in a press release.
"Flower Mound has been blessed with prosperity, but that blessing has come from hard work. The work continues as we reinvest in the community in ways that protect and improve the quality of life that brought each of us to Flower Mound and insuring the quality services our residents expect are delivered in the most effective way possible."
Professionally, Webb has worked for Nissan Motor Acceptance Corp. for 25 years where he manages the Strategy & Planning team in the company's Remarketing Services group.
Webb is also a longtime member of Flower Mound's oldest civic organization, the Summit Club of Flower Mound.
He and his wife, Heather Conrad-Webb, a genetics professor at Texas Woman's University, are the parents of daughters Alex and Nicole.
"Through actions, not just words, I have earned the trust and respect of residents and I am confident that I will also earn their support for re-election in May," stated Webb. "A balanced approach matters and I will continue that approach to encourage quality development and job growth that expands the commercial tax base and provides the resources necessary to maintain and improve the quality of life for all Flower Mound residents."
For more information on his campaign, visit Webb on Facebook at Bryan Webb Place 2 or email: [email protected]
The filing period for the May 7, 2016 election begins on Wednesday, January 20, 2016, and runs through Friday, February 19, at 5 p.m.