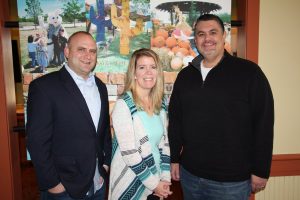 Lantana is now 15-years-old and boasts nearly 3,300 homes. And, according to the Texas HOA laws, it has reached the point where a resident will be elected to the previously developer-only Board of Directors.*
"The developer has such pride in the community, and to help begin the transition from a developer board to resident board, a three-person Resident Advisory Committee has spent the past year getting acquainted to the community association's operations," said Mark Norton, manager of the Lantana Community Association with Insight Association Management.
The three Lantana residents are Jim Bridges, Melody Gscheidle and Kharl Mena. Over the past year, the trio has attended HOA board meetings, learned about the amenities, financials and the CCR's (Covenants, Conditions & Restrictions) governing the development.
"Working alongside the Lantana Community Association the past year has been a real eye-opener for me," said Bridges. "I was impressed by all the planning, diligence and work that goes into running such a large operation that has a direct effect on the quality of life for all of us every day."
The community association will be mailing notices of the election meeting, tentatively set for Tuesday, Feb. 23. It will outline specifics about the election, as well as biographies on the Advisory Committee members and instructions on how additional nominees may be added to the ballot within 10-days time.
To help insure a quorum is reached, proxies will also be provided to allow absentee voting. However, because nominations from the floor are permitted, residents are encouraged to attend the meeting in person.
"The information about the meeting, nominated candidates biographies and an online ballot will be available on the HOA website: www.LantanaLive.com," said Norton.
For questions or requests for additional information, contact Mark Norton at: [email protected], or 940-728-1660.
*Although an employee of Lantana developer Forestar Group, one of the current Lantana Community Association board members is 11-year Lantana resident, Tara Boswell.