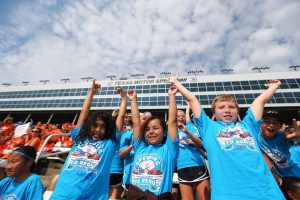 Lantana's E.P. Rayzor Elementary continued its perfect season through Turn 2 of Texas Motor Speedway's Speeding To Read competition with its entire student body meeting the pre-set reading goals in the second of four scoring periods to remain the leader among the 11 participating Dallas/Fort Worth Metroplex schools.
Rayzor, the defending Speeding To Read champions, had 100 percent of its 533 students consisting of kindergartners through fifth graders reach their goals for the second consecutive scoring period to claim the top spot in the reading competition. The Denton ISD school needed to be perfect to maintain the top honor as three schools were in the 96 percentile or better in the seven-week period.
Rayzor, also the Backstretch Division leader, was able to stave off Frontstretch Division leader Old Settlers in Flower Mound of the Lewisville ISD (99.83%) as well as Northwest ISD's Samuel Beck (99%) and Sendera Ranch (96%).
The 6,500 students from the 11 schools, which also includes J.A. Hargrave (Crowley ISD), Nathan Adams (Dallas ISD), Carroll Peak (Fort Worth ISD), Riverside Applied Learning Center (Fort Worth ISD), O.A. Peterson (Northwest), Northbrook (Eagle Mountain-Saginaw ISD) and Rockbrook (Lewisville), combined to read 269,204 books during the Turn 2 competition. The schools collectively have read 443,438 books at the midpoint of the competition.
Rayzor swept the individual Turn 2 honors with first-grader Richard Kim (2,276 books) leading the K-2 division and fourth-grader Noah Temer (407 chapter books) leading the 3-5 division where he is the reigning champion.
Rayzor also had the top K-2 classroom with Aleisha Moore's first-grade class averaging 630.86 books per student. Hargrave had the top 3-5 classroom with Lori Lucas' third-grade class averaging 78.5 chapter books per student to lead for the second consecutive turn.
Score-A-Goal in the Classroom, a Speeding To Read partner, is donating 240 new books to the Turn 2 leaders, with the school libraries at Rayzor and Old Settlers, individual division leaders and students of the classroom division leaders all being rewarded in a season-long program that will provide more than 1,100 books to the schools and students involved.
Score-A-Goal in the Classroom is among the 11 Texas Motor Speedway Speeding To Read partners that consists of NASCAR, Verizon IndyCar Series, Lionel Racing, aai Trophies & Awards, Domino's, Woolley's Frozen Custard, Kid's Beach Club, Speedway Children's Charities – TMS Chapter, The Speedway Club and SMI Properties.