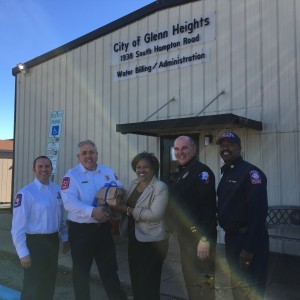 The Town of Flower Mound collected over $15,500 in gift card donations from area residents for North Texas tornado victims in the past week and a half.
The town council and staff held the drive to assist residents in Rowlett, Garland, Glenn Heights and surrounding communities devastated by the Dec. 26 tornadoes that took 11 lives and damaged or destroyed over 1,000 homes.
On Thursday, Flower Mound Fire Chief Eric Greaser presented a $7,400 donation to Glenn Heights' City Manager, Aretha Ferrell-Benavides, who thanked the town and guaranteed that the funds would get to the people who needed them most.
"We are pleased to be a part of a larger community that really cares," said Glenn Heights Mayor Leon P. Tate. The generosity shown is tremendous and will go a long way in helping these families to get back on their feet. Thank you to Mayor Hayden and the Flower Mound community."