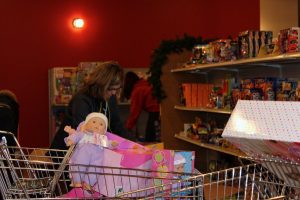 What started as a Bible study group of seven people in 1973 has grown into an organization of over 150 staff members and more than 2,500 volunteers.
Lewisville-based Christian Community Action (CCA) – one of the largest private non-profits in the state – has been bringing hope and changing lives, offering financial assistance, access to healthcare, and providing food to more than 10,000 individuals annually in southern Denton County and beyond.
CCA's holistic approach from rescue-to-transition helps families in need achieve self-sufficiency by offering a "hand-up" instead of a hand-out.
Here are some ways you can help CCA help others this holiday season.
Each year, CCA's Christmas Toy Store provides new toys to more than 2,000 children. It takes approximately 1,000 volunteers to help collect toys and work at CCA's Christmas Toy Store or shopping mall Giving Trees with gift suggestions. Giving trees are located at Vista Ridge, Grapevine Mills and Stonebriar Centre.
To ensure that Santa will visit CCA's "Angel children" with the perfect Christmas gift, CCA's Christmas Toy Store allows parents to provide gifts for their children despite the hardships they currently face. Qualifying families are identified through Family Assistance Services.
Parents select new, unwrapped gifts from donations provided to CCA's Toy Store. Everything they need, from stocking-stuffers to boxes and bows, are provided to ensure a memorable holiday.
The Senior Christmas program provides holiday cheer to elderly adults. In 2014, CCA provided gifts for 89 seniors and holiday food for 1,373 families.
Individuals and companies purchase Christmas gifts from a wish list provided by specific seniors. Donors also provide food, drinks and entertainment for CCA's Golden Angels Christmas Party.
Return the wrapped gifts with the name on the tag to CCA by Monday, Dec. 7. The senior Christmas party will be held on Friday, Dec. 11, from 11 a.m. to 2 p.m. at First United Methodist Church, 907 W., Main St., Lewisville.
Volunteers are needed to help at the mall Giving Trees, local Wal-Mart Christmas displays, the CCA's Toy Store, shopping assistants (18-years-old minimum), Toy Store Stocking and Inventory (16-year-old minimum) and Holiday Food Program helpers (16-year-old minimum). To register as a volunteer, complete the online application at: www.ccahelps.org/volunteer or contact Charlene Bell at 972-219-4382 or [email protected].
To coordinate a Toy Drive, Adopt a Senior, or display a Giving Tree, call Michelle DeGrate at 972-219-4379 or [email protected]; Peggy Swann at 972-219-4324 or [email protected]; or Karen Westphal at 972-219-4334 or [email protected].
Also provided are: Financial Assistance rent/mortgage, utilities, transportation, clothing and prescriptions; affordable housing; Spiritual Care & Counseling; Vocational/Education Services – GED & ESL classes, job-search support, budget training, literacy, job-search skills, resume building, job fairs, forklift certification and more; Case Management Services; plus Seasonal Programs – Back to School and Senior Monday, as well as the holiday and summer programs above.
To schedule a fundraising event for this program contact Vice President of Development: Cindy Shafer at 972-219-4318 or [email protected].
For more information, call CCA's Director of Food and Seasonal Programs, 972-219-4344 or [email protected].
Help CCA bring hope by meeting the needs of the community and blessing those less fortunate this holiday season.