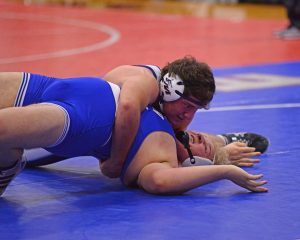 As the winter sports seasons kick into full swing, wrestlers from around the region are gearing up for what promises to be another great year on the mats.
Southern Denton County has certainly produced its share of regional and state level wrestlers and the 2015-16 season should be no different.
Flower Mound has proven itself to be a perennial powerhouse in the sport of wrestling, and coach Steven Davis said that, while his team is young, he believes it will be competitive this season.
"This is the least experienced team that we will field since I came here nine years ago," Davis said. "We have a line-up of kids that I think will battle to the end, but it remains to be seen if they can learn enough technique to hang with the top teams in the state.
"I am cautiously optimistic that in the end it will be a good season, but I fully expect to take some lumps along the way.  I am anxious to see what will happen when we get our nose bloodied.  Will we come fighting back or whimper in the corner?"
Last year, Flower Mound finished with a dual record of 19–6, were sixth at the State Duals of Texas, won their ninth consecutive district championship, finished third at the region II meet, and sent three wrestlers to the State Championship.
The Jaguars return junior Bataa Douglas, who finished third at state last season at 126 lbs. and had a record of 42–6.
Flower Mound is also returning seniors Jared Holbrook and Ryan Smith, both state alternates last season at 145 and 195 respectively.
Other returning starters include Spenser Behrens (Jr.) 138 lbs., 34 – 13, Duke Carrillo (Jr.) 285 lbs. 30 – 15, Daryl Rutherford (Jr.) 220 lbs. 28 – 14, Tanner Wood (Jr.) 145 lbs. 22 – 11, and Matthew Wojcicki (So.) 113 lbs. 17 – 12.
"Our team goals include winning a 10th consecutive district championship, representing region II at the State Duals of Texas, and bringing home some gold medals at the UIL State Championship," Davis said. "If that is to happen, we will need to see steady progress throughout the season.  We are going to have to embrace our losses as an opportunity to grow and become better, and expect that we will mature by season's end.  It will be a big challenge for sure, and all the sweeter if we can pull it off."
Davis said he anticipates Coppell and Hebron being Flower Mound's toughest district opponents.
Over at Marcus, coach Mike Prado said that he is feeling pretty confident heading into the season, but did add there has already been a bit of a setback.
Returning state alternate Brice Haney was injured during football season, but the Marauders will get back Austin Jacobs (195) a district alternate who wrestled in the regional meet last year.
"Three wrestlers saw a lot of action last season and should contribute this year in Max Sterns, Wade Barker and Drew Fagen," Prado said.
Marcus finished third at the district meet last season and returns a number of wrestlers.
Noah Jacobs is also a returning starter from last season.
Marcus will host this year's district meet in February as well.
For the Argyle wrestling program, coach Bobby Morse said he believes his is capable of accomplishing great things this season and said he is especially impressed with the turnout.
"Things are looking good for Argyle wrestling this year," Morse said. "The team numbers have grown and we have a lot of good, young guys getting ready for the season."
Argyle had seven regional qualifiers last year and Chase Roth won his third state championship.
"Chase returns as a senior this year and is looking forward to another run at the state title," Morse said.
Morse said he anticipates Azle being his toughest district competition this season and said the objectives for the 2015-16 season are pretty straightforward.
"We look forward to a strong showing at district this year and advancing even more to the region 2 tournament and on to state," Morse said.
Down the road at Liberty Christian, coach Mark Smith said while he is optimistic about his teams' chances this season, he does have an interesting, but completely solvable, problem.
"The team is working hard, and our boys are truly building a great brotherhood," Smith said.
"We have a lot of boys at the same weight, which is great for the practice room, but it can be difficult when trying to build a dual team."
Liberty Christian placed second as a team at the TAPPS state tournament last season, following its state championship victory the year before.
The Warriors had five state champions, and three, including Paul Barbaro, Dawson Parker, and Garrett Sawyer, are all returning.
"Returning two-time state champ Dawson Parker put in a lot of time over the summer," Smith said. "Paul Barbaro is another returning state champ who always gives 100 percent. Garrett Sawyer is also a returning state champ, and now that football season is over, he is excited to get back into the wrestling room."
Smith anticipates Trinity Christian, Saint Thomas and McKinney Christian to be among the teams to beat this season, and said that a successful season for his team is a couple of things.
"If you measure success by winning, it is a byproduct of what we do in the wrestling room," Smith said. "Knowing our identity is in the Lord is the most important objective. Our boys also want to stay healthy and continue to do well in their academics."