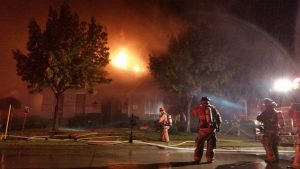 Firefighters from Flower Mound, Highland Village and Lewisville battled a massive house fire Friday night in Flower Mound's Bridlewood neighborhood.
Flames were shooting through the roof of the 4,500 square-foot home in the 5200 block of Saddle Drive around 6:30 p.m.
The cause of the blaze was determined to be a chimney fire from a wood-burning fireplace, according to Brandon Barth of the Flower Mound Fire Department.
There were 10 people in the house at the time and everyone escaped safely but the home appears to be a total loss.
To help the Egger family– who have two daughters, ages 8 and 6, and a Yorkie dog– drop off gift card donations to Val Lewis, 5208 Temple Dr, Flower Mound, TX 75028.