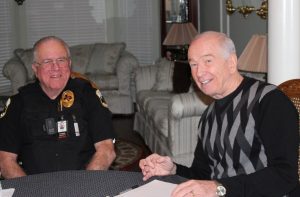 How many people know what type of work is performed by a constable? We all know that there are several layers of law-enforcement that operate in our communities, counties, state and federal government. However, most people are only familiar with the local police presence because they see the marked units that routinely patrol their neighborhoods.
To acquaint residents with another form of protective sentinel, I invited Jerry Raburn, Denton County Constable in Precinct 3, to come over for an interview. Mr. Raburn is in his sixth four-year term and is running for a seventh term in 2016. He will be on the ballot in the Republican primary on March 1.
In addition to other responsibilities, constables are peace officers with arrest and summons authority. In the video below, Constable Raburn describes his position and his background in police work.
Raburn is also a licensed firearms trainer with extensive knowledge in the handling of guns and situations involving the use of guns. Sadly, we've arrived at a time in our history when so many guns are being used by criminals that it makes it necessary for law-abiding people to take it upon themselves to learn how to use guns and obtain a license to carry them.
Several friends of mine have taken the course with Jerry and have told me that they not only learned everything about the use of firearms, but they were given some actual role playing demonstrations that really taught them what to do in a dangerous situation. In the video, Jerry talks about the length, the cost and other features of the training program.
Recently, Governor Greg Abbott signed the "Open Carry" bill passed by the state legislature, allowing Texans with licenses to openly carry their handguns in holsters. Constable Raburn expressed his opinion on the bill during our video segment.
He feels, much like I do, that he'd rather not let the bad guys know that he's armed. Therefore, he and I agree that we'd rather keep our weapons concealed.
Being a former police officer, I thoroughly enjoyed the time I spent talking with Jerry about the law-enforcement career and how it has changed during the last few decades. The challenges are different today, but, as I learned a long time ago, a good cop learns how to adapt to each situation.
It takes more than knowledge of the job and the courage to carry it out; it takes prudent judgment and sensitivity toward those who may run afoul of the law. It seems very evident to me that Constable Raburn has all the skills, experience and sensitivity of the consummate lawman.
Bob Weir is a long-time Flower Mound resident and former local newspaper editor.