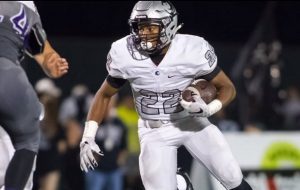 There are two area high school football teams still in the playoff picture as we head into the regional semifinal round this Friday.
Strong Running Attack Propels Wildcats
Guyer quarterback Shawn Robinson rushed for 263 yards and four touchdowns last week as the Wildcats defeated Southlake Carroll by a score of 48-35 in the area round of the postseason.
There were five lead changes in the game that saw Myron Mason score on two touchdown runs, and Noah Cain tack on a third touchdown run.
Guyer took a 27-21 lead into halftime, and never looked back.
The Wildcats (9-3) will take on San Angelo Central (11-1) at 2 p.m. on Friday at AT&T Stadium in Arlington and will rely on Robinson to lead the way offensively.
Defensively, Guyer will have to slow the passing attack of Brennen Wooten, who threw for 264 yards and two touchdowns last week and rushed for 94 yards and a touchdown against El Paso Americas High School in the Bobcats 51-27 victory to advance.
Daven Manning rushed for 114 yards and two touchdowns last week for Central, and will also have to be accounted for if the Wildcats expect to move on.
Eagles Continue to Soar
Argyle jumped out to a 38-0 lead in the second quarter against Pittsburg last week and went on to win their area round game by a score of 59-34.
Taylor Sweatt rushed for 190 yards and three touchdowns in the victory and Drew Estrada and Gage McCook scored two touchdowns each.
Defensively, Gage Campbell came up with an interception and returned it 35 yards for a touchdown.
The Eagles (11-1) will play Kennedale (12-0) this week and will have to focus its efforts on stopping running back Dailyn Wells, who rushed for 289 yards and four touchdowns last week in Kennedale's 47-26 victory over Athens.
Argyle and Kennedale will meet at 7:30 p.m. on Friday in the 4A Division 1, Region II semifinals at SMU's Ford Stadium.