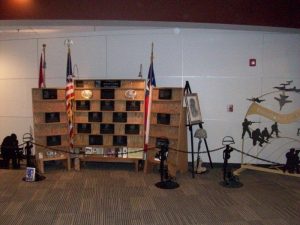 The Denton County Office of History and Culture will unveil the Denton County Fallen Soldiers Memorial on Tuesday November 10th.
The memorial, designed by Monty Slough, began in 2007 as a tribute to fallen soldiers of the Wars in Iraq and Afghanistan (including Desert Storm, Desert Shield, and Operation Enduring Freedom).
The ribbon cutting for the Memorial will take place at 9 a..m. during Commissioners Court at the Courthouse-on-the-Square.
Monty Slough, a Vietnam veteran who served two years in Southeast Asia, created the Denton County Fallen Soldier Memorial to honor the brave soldiers of the Wars in Iraq and Afghanistan.
The memorial has received recognition by the Texas Senate and the 66th Congress of the United States.
Slough spends much of his time assisting fellow veterans and reminding civilians of the courage and bravery of those who have made the ultimate sacrifice for this country. He said that his efforts in creating the memorial have brought comfort to the grieving families and respect to Denton County's fallen soldiers.
All Courthouse Museum exhibits and lectures are free and open to the public.  The courthouse has handicapped parking and accessibility through the north entrance.
The Courthouse-on-the-Square Museum is located in the historic Denton County Courthouse at 110 W. Hickory in Denton.