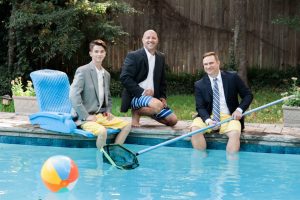 Pool Mgr. is changing the pool service business in a very unique way.
In a world where most businesses consist of "one guy and a truck," there is a lot of room for missed details which can lead to big problems.
Pool Mgr. has a unique concept: Three men with business management backgrounds have come together to form the most unique and up-to-date business format that the pool cleaning industry has ever witnessed while still keeping the company casual and easygoing, like outdoor living should be. And priced right too!
"We just happen to be three business managers who have taken an interest in outdoor living rather than the cubicle. We have taken business management to your pool and relaxed a lot in the meantime," said co-owner Bruin Kor. "We are loving the idea of being corporate managers of a business this fun!"
With their unique business organization skills and "triple check" business structure, the trio is proud to announce the arrival of the most efficient and tech-savvy company that they say will "blow the competition out of the proverbial water."
Customers will have a dedicated pool tech along with a field manager, quality control manager and operations manager.
Each of their expert technicians is outfitted with an iPad liked to their cloud-based business platform containing all of the companies' resources, tools and information.
Customers also have the peace of mind of knowing when a tech has arrived at their home– and the name/picture of the tech– what the techs have found, and documentation that the homeowner can save for their personal records.
"We are striving to make the pool cleaning and maintenance business as interactive to the customer as possible while maintaining three levels of quality control to ensure that your job is done accurately and professionally with the best value possible," said co-owner Scott Reddin.
"We are offering a free first cleaning and assessment to our first 50 new customers and we very much look forward to meeting you…our new customer."
Call Pool Mgr. at 972-317-1013.