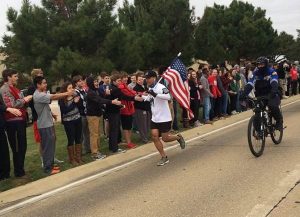 The Town of Flower Mound will hold its second annual Veterans Day Relay Run this Wednesday, Nov. 11, where veterans and their family members will follow a course throughout Flower Mound carrying the American flag.
The idea started last year with Flower Mound Mayor Tom Hayden after he spotted resident John Scully running with the flag through Flower Mound.
"I thought it was a cool thing for us to do," Hayden said. "The idea is to celebrate veterans."
Scully, a longtime runner, was moved to start carrying the flag on special occasions after 9/11. It was a way, he said, to "ask people to remember."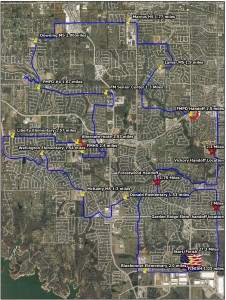 In the years since he began, Scully has heard from veterans who are moved by seeing him carry the flag. So when the mayor approached him, Scully jumped at the idea of creating an annual event in the town where he lives.
"It (Veteran's Day) is a holiday of remembrance, of giving thanks," Scully said. "To have this going on all day, that's where I think people will be touched."
This year, the course takes participants by each Lewisville ISD school twice in order for students to have the opportunity to cheer on the runner.
After the event, the public is invited to attend a special post-run celebration from 5 to 6 p.m. at the Community Activity Center (CAC), 1200 Gerault Rd. Attendees are also invited to come prior to 5 p.m. to cheer on our relay runners completing the last leg of the relay run as they cross the finish line at the CAC.
Refreshments will be served and Veterans Day Relay Run commemorative T-shirts will be available for $20. All proceeds from the T-shirt sales will go to the Denton County Veterans Coalition non-profit organization.
Residents can make their own donation in honor of a special veteran by visiting: www.veteransofdentoncounty.org/donate.