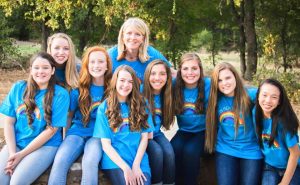 At 2-years-old, Sophia Marie Donnarumma was diagnosed with stage 4 cancer. She endured 12 rounds of chemotherapy, radiation, surgeries, three bone marrow transplants and received more than 100 blood transfusions before passing away at only 4 years old.
Sophia, daughter of Girl Scout Troop 8869's Red Cross representative Diane Lafrancis, was a fighter who never complained. She would have been a high school freshman this year, the same age as members of Troop 8869.
To honor Sophia's memory and to help the American Red Cross ensure a sufficient blood supply, Troop 8869 is hosting a blood drive on Nov. 7-8 from 9 a.m. to 3 p.m. at Flower Mound High School. The drive will be held at the Flower Mound 9th Grade Center, 3411 Peters Colony Road.
Troop 8869's blood drive is also a Red Cross Leaders Save Lives Blood Drive. The Leaders Save Lives program encourages community-minded 16- to 24-year-olds to host blood drives to help maintain the community's blood supply. Students, like those in Troop 8869, who participate as blood drive coordinators can earn a gift card and are eligible to win a scholarship up to $2,500 for higher education.
"We could think of no better way to honor Sophia's memory than by doing our part to make sure blood was available for others in need," said Margo Brooks, Troop 8869 leader. "By collecting 201 pints of blood and receiving the $2,500 Leaders Save Lives scholarship, we can donate the scholarship, in Sophia's name, to Flower Mound High School. We invite the community to help us make this happen."
The timing of Troop 8869's blood drive also coincides with the Red Cross need for blood as the holidays approach. Blood donations tend to decline around the holidays and as the cooler weather returns, but the need for blood is constant. By setting aside about an hour to give, donors help give patients a chance to celebrate more Thanksgiving dinners and special occasions with family and friends. As a national network, the Red Cross is uniquely positioned to help provide blood wherever it is needed, particularly in the face of disasters or severe weather.
Brand new this fall, donors can now save time at their next donation by using RapidPass to complete their pre-donation reading and health history questionnaire online, on the day of their donation, prior to arriving at the blood drive. To get started and learn more, visit redcrossblood.org/RapidPass and follow the instructions on the site.
How to donate blood
Simply download the American Red Cross Blood Donor App, visit redcrossblood.org or call 1-800-RED CROSS (1-800-733-2767) to make an appointment or for more information. All blood types are needed to ensure a reliable supply for patients. A blood donor card or driver's license or two other forms of identification are required at check-in. Individuals who are 17 years of age (16 with parental consent in some states), weigh at least 110 pounds and are in generally good health may be eligible to donate blood. High school students and other donors 18 years of age and younger also have to meet certain height and weight requirements.