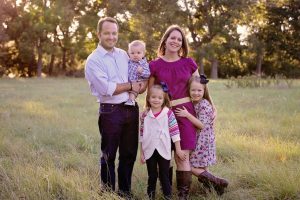 Primrose School of Lantana franchise owners Frank and Erin Lundie of Lantana will host a grand opening event to celebrate their new school on Saturday, Nov. 14, from 10 a.m. to 2 p.m.
The grand opening event will provide attendees with a day of family-friendly fun, featuring activities like a photo booth, face painting, balloon artist, bean bag toss, an obstacle course (weather permitting) and a school tour.
Refreshments will be served, and a raffle will be held among attendees for an opportunity to win a family-friendly fall-themed basket. A ribbon-cutting ceremony will take place at 10:15 a.m. to officially celebrate the opening of the school.
"When we began the pursuit of owning our own business, we knew we had to find an opportunity that would make a meaningful impact on the community," said Erin.
"As Primrose parents, we saw our children excel both academically and socially at Primrose. As a result, we wanted to offer other families in our community the same opportunity. We're thrilled to provide the children of Lantana with the high-quality early education and care they deserve, and we look forward to welcoming them into our school."
Primrose School of Lantana officially opened its doors to students on Monday, Oct. 26. Adding approximately 25 jobs and $4 million in project costs to the community, the 12,100 square-foot school is poised to serve more than 200 local children and families.
Primrose School of Lantana features 11 private classrooms with wireless technology throughout and four separate and secure age-appropriate playgrounds to accommodate each stage of the children's early development.
Following the guidelines of the Primrose Schools Thumbs Up! Enrichment Program, the playgrounds include equipment specifically designed to encourage physical development and to help develop and grow children's gross motor skills. Primrose School of Lantana also features a "splash pad" for spring and summer water activities. Furthermore, children will continue to develop their fine motor skills in the Primrose Patch – a garden on the school's property that enriches school curriculum with monthly gardening and nature study.
The school will offer the Primrose-exclusive Balanced Learning curriculum, which blends teacher-guided and child-initiated activities with a special emphasis on character development.
For students up to age 12, Primrose School of Lantana offers the Primrose Explorers after-school program, further shaping young people for success in learning and life. The new school also features the official Primrose Schools Safe School Plan, which provides guidelines to ensure ongoing safety measures are in place and that parents and staff members are well prepared for emergencies.
Primrose School of Lantana is located at 7020 Justin Road. To contact Primrose School of Lantana please call 940-455-2550 or visit www.PrimroseLantana.com.