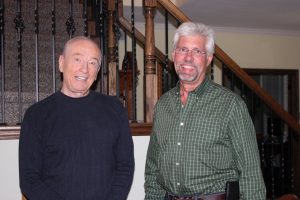 The race for the seat being vacated by Texas House Rep. Myra Crownover just added a third candidate. Veterinarian and former Sanger Independent School Board President, Lynn Stucky, has announced his intention to seek the Republican nomination for State Representative in Texas House District 64.
The district will have a new rep. for the first time since 2000, with the retirement of Crownover, who decided not to run for a ninth term. Denton attorney Rick Hagen and former public school teacher Read King are the other two candidates running for the popular Republican's seat.
Dr. Stucky believes his background in agriculture, veterinary medicine, education, and business affairs, together with his rock-solid conservative values, make him uniquely qualified to represent Denton County in the legislature. "Our community and our state face a great many challenges in the years ahead. As a Christian conservative, I believe that we have a duty to God and to our children to leave our state and nation in a better place than we found it," said Dr. Stucky.
During my recent interview with Dr. Stucky, he added, "In the Texas House, I will protect the life and liberty of the young, the old, and those who have yet to be born. That will include defense of our religious liberties, private property rights, and our right to keep and bear arms. I will work to give our children a world-class education system and high-quality jobs right here in Denton County when they are grown, and I will do everything in my power to secure our border and make sure that Texas is not a sanctuary for illegal immigrants."
He also stated that he would not have voted for House Bill 40 which recently gave the state of Texas exclusive jurisdiction to regulate oil and gas operations, taking that authority away from local communities. Additionally, he said the Denton fracking ban went too far, but, he'd support better environmental controls on the use of hydraulic fracturing.
A native of rural Kansas, Dr. Stucky learned the values of hard work and determination at any early age. His father passed away when he was 11-years old, forcing him and his older brother to farm grain and raise livestock to support their family. His mother was adamant that all of her children go to college, leading him to Kansas State University, earning his bachelor's degree and Doctorate of Veterinary Medicine. In 1983, he made Denton County his home. In 1986, he bought into veterinary practices in both Denton and Sanger, and in 1997, he opened the Animal Hospital on Milam Road where he still practices today. He also served on the Sanger ISD Board of Trustees for 15 years, including four years as President. In 2007, he was named "Citizen of the Year" by the Sanger Chamber of Commerce.
Dr. Stucky and his wife, Lori, a former teacher and coach in Denton ISD, have been married for 28 years and are the parents of three grown children, all of whom graduated from Denton County public schools. Dr. Stucky is a graduate of Leadership Denton, served on the Board of Directors of the Sanger Chamber of Commerce for six years, is a long-time member of the Denton Chamber of Commerce, and since 2002 has served on the Board of Directors of the Kanakuk Institute, a graduate discipleship program for young men and women to intensively study scripture. The Stucky family are members of the Denton Bible Church.
The GOP primary will be on March 1, 2016. More info can be obtained by viewing the video below and by clicking on the Dr's campaign website: www.lynnstucky.com
Bob Weir is a long-time Flower Mound resident and former local newspaper editor.