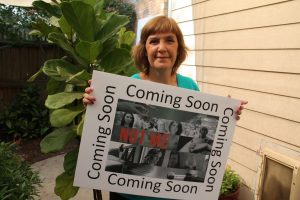 After Brett Morgan O'Keefe died from an accidental drug overdose in March 2010, his mother decided to fight back against the shadowy monster that took her son from his world.
Kathy O'Keefe founded Winning the Fight (WTF), a Flower Mound-based nonprofit geared toward drug awareness among school age kids and their parents. A tool in the group's repertoire is an anti-drug documentary, "Not Me," which was filmed last year on August 31, International Overdose Awareness Day, at Flower Mound High School.
"We made the documentary available for local schools and other groups to view, and the decision to use the documentary as the basis for a movie was made to be able to get national distribution," O'Keefe said.
Now that film is heading to the national stage.
It's the latest effort used as part of the group's mission to provide education through community forums and necessary professional services for families, abusers and addicts, as well as a series of networking tools to assist with users' sobriety and their ability to live a fulfilling life without drugs.
The original documentary featured personal interviews and reflections from addicts, parents and family members of both survivors and those who lost their fight with drugs.
"We put all the footage from 'Not Me' in the hands of our chosen director, David Redish, who went to SMU and now is based in Austin, and he transformed that into a feature film," said Jeff Graves, a WTF board member.
Redish is an award-winning filmmaker and producer who was raised by a family of storytellers—including children's author Charles H. Redish—and knew he wanted to make films at an early age.
"David had no personal experience with the subject matter of addiction but he went through 46 hours of interviews and took all the stuff he thought was most important," said O'Keefe.
Then they filmed reenactments for eight days, working 12 to 14 hours per day.
"All of that work goes into a movie that ends up being around 85 minutes long," O'Keefe said.
Some of the filming was done in Flower Mound and one scene involving a traffic stop was staged at Downing Middle School with the help of the Double Oak Police Department.
Most of the film's extras were Marcus and Flower Mound High School students.
From the director's hands, "Not Me" was given to well-known professional editor, Ryan Dever. Among other achievements, Dever was the editor for the "Brian & the Boz" episode of ESPN Films' "30 for 30" unprecedented documentary series featuring today's finest storytellers from inside and outside of the sports world.
O'Keefe has scheduled two screenings of the film at the Moviehouse and Eatery in Flower Mound for Nov. 1. See the trailer here.
"Our hope is to sell it to a TV group like Netflix or HBO or another network for national distribution. Of course, we'll retain the rights to be able to share it in education settings," O'Keefe said.
"Everybody across the nation has to see this documentary."
For more information visit www.wtf-winningthefight.org.