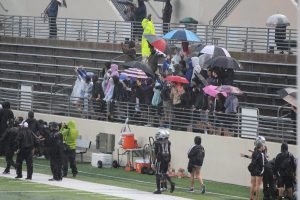 Due to the potential of inclement weather this Friday, Oct. 30, several area varsity football games have been moved up one day.
Here are the details of the rescheduled games:
Marcus High School will host Plano Senior at 7 p.m. Thursday at Marauder Stadium.
The Argyle/Dallas Pinkston matchup has moved to Thursday with a 7 p.m. kickoff at Wilmer Hutchins stadium.
Liberty Christian School's away game against Prestonwood Christian has been moved to Thursday at 7:10 p.m.
Lewisville High School will host McKinney Boyd at 7 p.m. Thursday at Max Goldsmith Stadium.
All tickets previously purchased for the games will be honored.
Two local teams will not be affected. Guyer was already scheduled to play Keller Timber Creek on Thursday night in Keller, and Flower Mound High School has a bye week.
Forecasters said that another strong storm system will arrive on Friday that has the potential to bring more heavy rain to the region.
The prolific rains last week caused the Guyer football game to be rescheduled twice and other games to be delayed for hours.