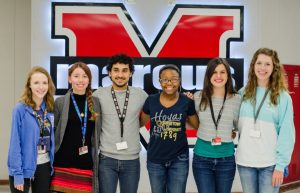 With universities and honor societies demanding an increasing amount of community service hours, students are floundering to remain afloat, because they simply cannot find enough avenues to rise to the occasion.
Noticing this struggle, students at Marcus High School (MHS) banded together to form the club, "Duty Bound," a brand new service-oriented club dedicated to directly linking organizations in need of volunteer aide with students who have a heart to help.
Parents need not fret, all organizations and services opportunities are checked for safety prior to being displayed on the newly convenient, straightforward Duty Bound website. Students, parents and organizations alike are to be served by the Duty Bound team, who are actively working to ensure the goals of all three parties are to be met.
"Duty Bound President Autumn Tompkin, along with fellow Duty Bound officers, wanted to create a way to help others get needed service hours, as well as help people in our community," MHS Principal Gary Shafferman said.
Nowadays, students that qualify for and are a part of honor societies have the upper hand in seeking out service opportunities, as they strive to reach the quota of hours needed to remain enrolled. They are given clear information with easy sign ups, but this leaves the rest of the student population behind.
Duty Bound sews together the gap between the general student population and service opportunities, making it a unique club. Anyone and everyone can participate in the events offered on the Duty Bound website through a simple, easy sign up form.
All opportunities listed are provided directly from reputable organizations such as the Flower Mound Rotary Club and Flower Mound Chamber of Commerce, which ensure all opportunities are safe and legitimate. Each service opening also clearly lists all information about time, date and location, requirements and recommendations, such as the appropriate clothing and if there's an age requirement.
Duty Bound Founder and President Autumn Raine Tompkin assembled a team in order to see the idea come to fruition. Her innovative mind searched for others with a passion to serve and promote the public good, thus combining the talents of fellow students Megan Perez, Kathrine Cliff, Josué Martinez, Elaine McMurry and Morgan Buszczak to ensure that the website and club was as simple and efficient as possible. Under the direction and thanks to the support and help of MHS Counselor, Jill Adams, the group was able to succeed in implementing Tompkin's dream.
When asked about the students who built Duty Bound, Adams said, "They're a group of great students looking to encourage and help other students to reach their goals."
Thus, Duty Bound was created with the goal of helping pave the path to individual and community greatness in mind.
This organization will run every year for the foreseeable future, with new opportunities being listed throughout the school year. The team desires nothing more than to raise up their peers and their community, so questions and participation are welcomed.
To get involved today or for more information, visit the Duty Bound website at: http://dutyboundmhs.wix.com/heretohelp or contact MHS Counselor Jill Adams at [email protected].
Written by MHS student Megan Perez